Defence Minister appreciates OFAj for state-of-the-art machinery, high standards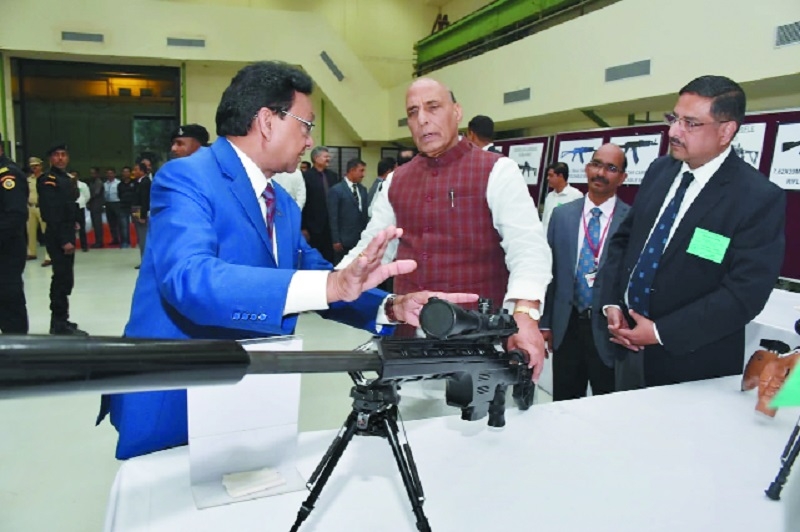 Rajnath Singh, Defence Minister, being briefed by Hari Mohan, DGOF and Chairman, Ordnance Factory Board,
during the former's visit to Ordnance Factory, Ambajhari, on Saturday.
Staff Reporter :
Rajnath Singh, Defence Minister, visited Ordnance Factory Ambajhari (OFAj) on Saturday. He visited the facilities there and also inaugurated the fully automated Robotic Nub Welding Machine. Later on, he appreciated OFAj for state-of-the-art machinery and high quality standards. Hari Mohan, Director General Ordnance Factories (DGOF) and Chairman of Ordnance Factory Board (OFB), accompanied the Defence Minister and explained the intricacy of state-of-the-art ammunition production facilities at OFAj.
The visit started with showcasing of key functionality adopted by OFAj like predictive maintenance, 'Industry 4.0' initiative, quality set-up including introduction of latest SPC/SQC techniques in production, implementation of Six Sigma tool, etc. Rajnath Singh inaugurated the fully automated Robotic Nub Welding Machine installed in Shell Machine Section of OFAJ. Defence products of other Ordnance Factories like Rifle Factory-Ichapore, Small Arms Factory-Kanpur, Ordnance Factory-Tiruchurappalli, Ordnance Factory-Chanda were also exhibited at the OFAj.
The main arms and ammunition on display included Sniper Rifle 7.62x51 mm MK-1, Sniper Rifle 336, Assault Rifle 7.62x51 mm, Joint Venture Protective Carbine 5.56x30 mm etc. Defence Minister appreciated the state-of-the-art machineries available for ammunition production and high standards of quality parameter maintained at OFAj. Later on, the Defence Minister tweeted, "Visited the Ordnance Factory at Ambajhari near Nagpur today and witnessed the arms and ammunition making capabilities of the OFBs in our country."
He is also learnt to have written a comment in the OFAj visitor's book that he was impressed by OFAj capabilities. Also, he is learnt to have said that OFAj was equipped to supply high quality products to the Armed Forces of the country.