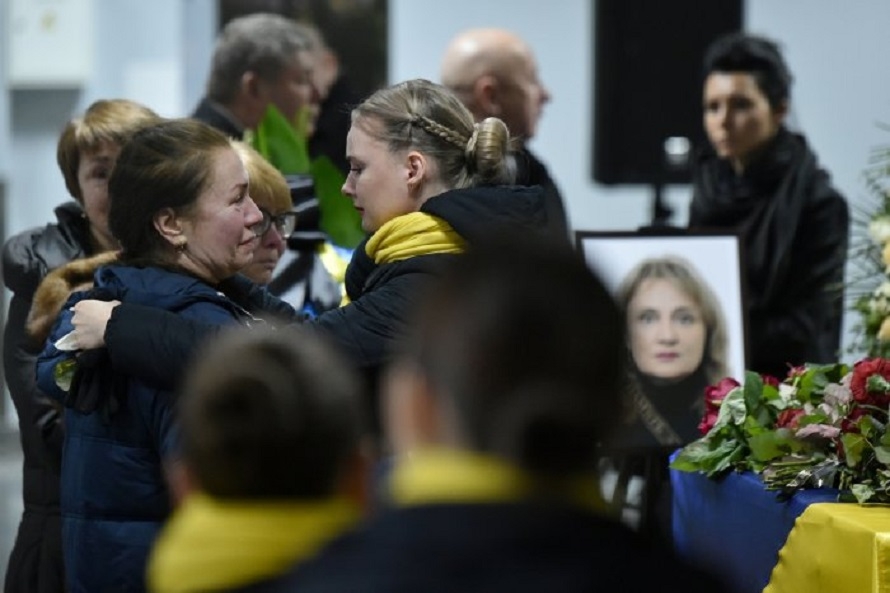 KIEV,
THE flag-draped coffins of the 11 Ukrainians who died in a plane mistakenly shot down by Iran during a spike in tensions with Washington arrived in Kiev on Sunday. President Volodymyr Zelensky, Prime Minister Oleksiy Goncharuk and other officials attended the solemn ceremony at Kiev's Boryspil airport to see caskets with the remains of the downed plane's nine Ukrainian flight crew and two passengers being removed from the aircraft.
Ukraine International Airlines staff, some in tears, stood on the tarmac clutching flowers, according to live video footage. The airline staff and relatives formed two lines to make a corridor through which the honour guard carried the caskets draped in the yellow-and-blue flag of Ukraine. Some men fell to one knee to honor the victims.
The honour guard also held flags of the countries whose citizens perished in the crash. The Kiev-bound UIA Boeing 737, crashed shortly after taking off from Tehran on January 8, killing all 176 people on board, mostly Iranian and Canadian citizens. The caskets were to remain for a while at the airport terminal so that relatives and members of the airline could say their last goodbyes. The funerals are expected to be held on Monday.
Iran backtracks on plan to send flight recorders to Ukraine
TEHRAN :
THE Iranian official leading the invssestigation into the Ukrainian jetliner that was accidentally shot down by the Revolutionary Guard appeared to backtrack on Sunday on plans to send the flight recorders abroad for analysis, a day after saying they would be sent to Kyiv. Hassan Rezaeifar was quoted by the state-run IRNA news agency as saying "the flight recorders from the Ukrainian Boeing are in Iranian hands and we have no plans to send them out."
He said Iran is working to recover the data and cabin recordings, and that it may send the flight recorders — commonly known as black boxes — to Ukraine or France. "But as of yet, we have made no decision." The same official was quoted by the semi-official Tasnim news agency on Saturday as saying the recorders would be sent to Ukraine, where French, American and Canadian experts would help analyse them.
Iranian officials previously said the black boxes were damaged but are usable. It was not immediately possible to reconcile the conflicting accounts. Iran may be hesitant to turn over the recorders for fear that more details from the crash — including the harrowing 20 seconds between when the first and second surface-to-air missiles hit the plane — will come to light.