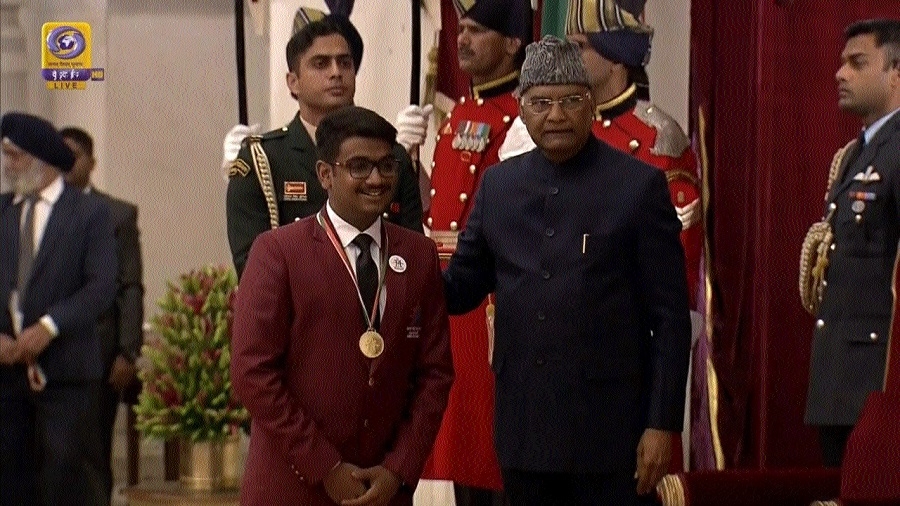 President Ramnath Kovind patting Anmol Rathi on his achievements.
Staff Reporter :
Raipur,
Anmol Rathi from Raipur has been honoured with Pradhan Mantri Rashtriya Bal Puraskar during a ceremonial programme held in Delhi. President of India Ramnath Kovind honoured Rathi who would soon be meeting with Prime Minister Narendra Modi. Besides, Rathi would also attend the Republic Day function in Delhi on January 26.
The honour came for Rathi as recognition to his innovative talent. It is worthwhile to mention, Anmol and his partner Harsh Agrawal had participated in the International Genius Olympiad held in New York in June, 2019. Around 1500 students from 73 countries had participated. 789 projects were displayed during the Olympiad. Five teams from India had participated in the event and Raipur team won gold medal in science model category.
The model was based on pancreatic cancer detect. For the first time saliva would be used in testing kit. This method is cost-effective and symptoms of pancreatic cancer can be detected in very early stage. According to Harsh, it took 3-4 months to devise the model. Earlier, Anmol has bagged CSIR Award, Gold Award in Foundation for Global Science Initiatives, First Prize at IIT Mumbai, Award at IIT Kanpur, Gold Award at National Fair (Indian Science and Engineering Fair). Meanwhile, Akhil Bharat Varshiya Maheshwari Sabha president Shyamsundar Soni and other members said that Anmol has brought laurels for the state and the community. Anmol's father Indragopal Rathi is working as DGM in Sarda Energy and Minerals Limited and mother Puja Rathi is Computer Professor at St Vincent Pallotti College.