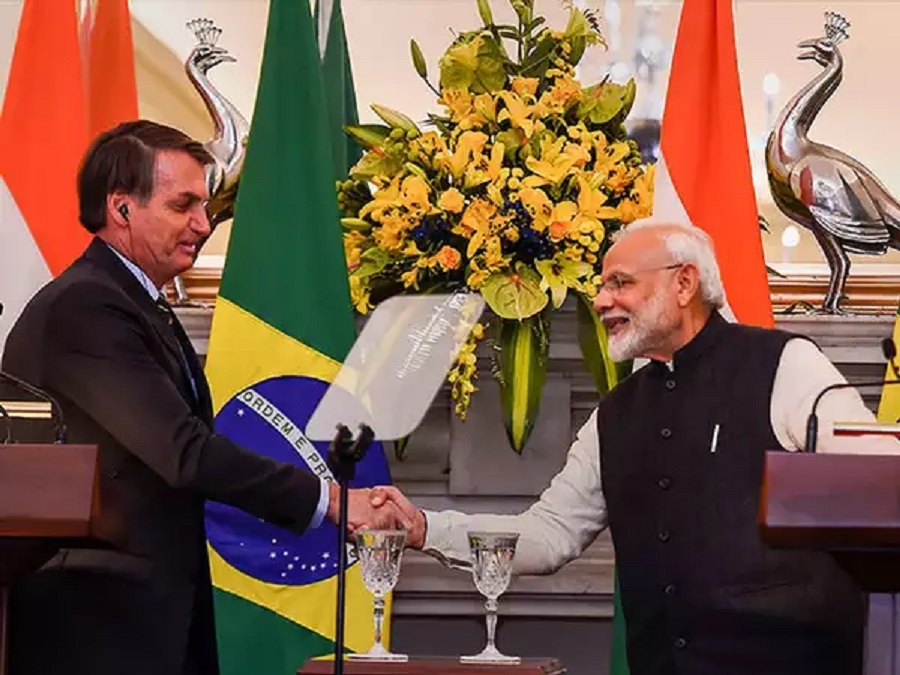 NEW DELHI :
INDIA and Brazil on Saturday inked 15 agreements to ramp up cooperation in a wide range of areas, including oil and gas, and unveiled an action plan to further broadbase their strategic ties after talks between Prime Minister Narendra Modi and Brazilian President Jair Messias Bolsonaro. The two leaders also vowed to work closely at the global anti-terror watchdog FATF to effectively confront challenges of terror financing and state-sponsored terrorism. Modi and Bolsonaro pitched for united global action to root out terrorist safe havens and infrastructure, disrupt terror networks and halt cross border movement of terrorists, according to a joint statement issued after the talks.
In the action plan, the two countries set specific goals for deeper cooperation in areas of defence and security, trade and commerce, agriculture, energy, civil aviation, environment, health and innovation With a focus on boosting their stuttering economies, Modi and Bolsonaro decided to significantly expand bilateral cooperation in key sectors like energy and mining and set a target of USD 15 billion in bilateral trade by 2022. The volume of bilateral trade in 2018-10 was USD 8.2 billion.
The 15 agreements inked will provide for cooperation in a wide range of areas including oil and gas, mineral resources, traditional medicine, animal husbandry, bioenergy and trade and investment. "Your visit to India has opened a new chapter in ties between India and Brazil," Modi said, summing up the outcome of his talks with Bolsonaro. Bolsonaro arrived here on Friday, accompanied by his daughter Laura Bolsonaro, daughter-in-law Leticia Firmo, eight Ministers, four members of the Brazilian parliament and a large business delegation.
The Brazilian President will grace the Republic Day Parade as chief guest on Sunday. In their dialogue, Modi and Bolsonaro also reiterated mutual support for India and Brazil's aspiration to become permanent members in an expanded UN Security Council.