Boy with city connection wins Vermeil Special Prize in philatelic expo Inpex-2019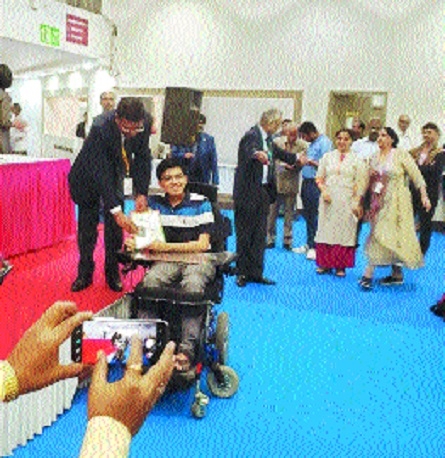 Ramprasad Mahurkar receiving the Vermeil Special Prize for his exhibit in PCI National Stamp Show held in Mumbai recently.
Staff Reporter :
Butterflies! That beautiful creation of the Almighty. A sight of butterfly stamps a pleasing image on the envelope of one's mind. Imagine, if someone has got a vast collection of the 'postage stamps' on butterflies and moths!. Isn't it wonderful? Indeed, it is. The owner of this wonderful collection is a 15-year-old boy, who is a grandson of a Nagpurian couple. In fact, this boy Ramprasad Mahurkar has won the prestigious Vermeil Special Prize for his exhibit in PCI National Stamp Show held in Mumbai recently. Ramprasad Mahurkar is grandson of Lt Col (retd) Rajesh Gupta, who lives in Indraprastha Layout in Nagpur.
Ramprasad lives in Mumbai. He participated in the youth category in national-level Philatelic exhibition 'Inpex-2019' organised by Philatelic Congress of India (PCI), which is the apex Philatelic body in India. The title of Ramprasad's exhibit was 'A dialogue with the flying Jewels (Butterflies and Moths)'. He got 83 out of 100 marks. It was the highest in the youth category. According to him, this is equivalent to a Vermeil medal. It is his latest achievement. However, he has to his credit several honours.
In 'Balpex-2018' he won a Gold medal. In the event, he won Youth Grand Award, scoring 88 out of 100 points. The award was equivalent to Large Vermeil medal. In 'Champion of Champions-2018' (Ohio), he got the best synopsis award. Previously, he got Fran Jennings Memorial Award (Creativity Award), and ATA Youth Award. Ramprasad started taking interest in butterflies since his visit to an open air butterfly garden close to his home.
The garden is atop a dumping ground. Through conversation with a botanist, he came to know more about the importance of butterflies in human life and need for their conservation. Soon after, he took up research on butterflies of different types. Gradually, he started collecting stamps of butterflies and moths. In an e-mail to 'The Hitavada', Ramprasad stated that his parents and especially mother, and a senior butterfly stamp collector Dr Satish Sondhi encouraged him in building his collection. Every time, Ramprasad searches for information on a particular butterfly, he comes across newer insights into history, politics, and natural sciences with world as a canvas. "This is the best thing I like," he added. Every time he displays his exhibit in an exhibition, he upgrades it by at least 30 per cent in terms of material and content.