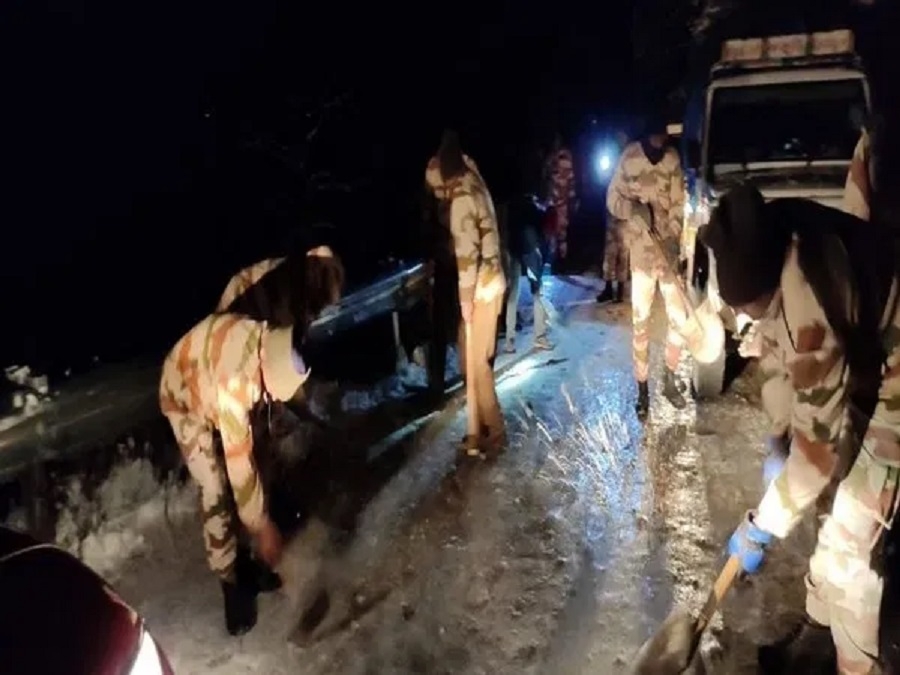 MUSSOORIE :
OVER 400 people have been rescued by the Tibetan Border Police (ITBP) personnel on Suakholi-Mussoorie road since Saturday night. More than 100 vehicles were stranded due to heavy snowfall in the region. Personnel of ITBP Academy, Mussoorie, are clearing the road and facilitating the safe movement of vehicles on high slope roads.
The road clearance and rescue operations are underway. According to the IMD, Mussoorie is likely to witness rain or snow with cloudy sky for the next week. CRPF party treks 12 km to provide aid to family stranded on NH: A CRPF party trekked 12 km to provide food items to a family including a woman and her three children who were stranded on the Jammu-Srinagar National Highway in Ramban district due to landslides, an officer said on Sunday.
The CRPF acted swiftly after getting a frantic call at its assistance desk 'Madadgaar' from a woman named Asifa who along with her children and twoother family members were travelling from Srinagar to Jammu but got stranded at Digdole due to a massive landslide, the officer said. "CRPF troops led by Inspector Raghuveer walked 12 kms to provide food and other items to the family of Asifa who was stuck for hours at Digdole NH-44 along with her kids due to a massive landslide.