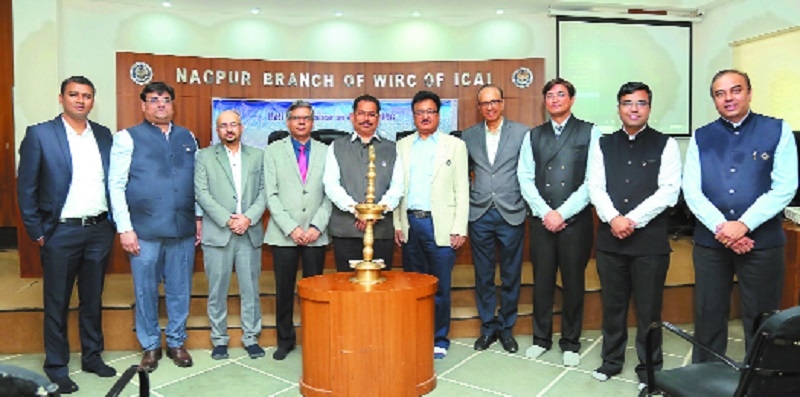 Business Bureau :
"Insolvency and Bankruptcy Code (IBC) has given creditors and bankers a big say. The IBC through Chartered Accountant Professionals duly aims at early corporate debt resolution and value maximisation of the assets of the bank. However, gaps in the IBC ecosystem and infrastructure bottlenecks have slowed the process" saikd Manoj Kare, Deputy General Manager, Bank of Maharashtra, Nagpur. Kare was speaking at the seminar on ARC and IBC, organised here by the Nagpur Branch of the Institute of Chartered Accountants of India (ICAI). He stated that stressed assets have been rising rapidly in India, mainly in public sector banks. The reason include global slowdown, governance related issues, economic factors as well as ill intentions and misconduct, on the part of the borrowers in few cases.
"There is need to take this opportunity to undertake extensive research into the factors which have led to deteriorating assets quality in public sector banks," he added. He further conveyed that ARCs being the specialised agencies, generally have NPA resolution as the core activity. Because of this, the banks can concentrate on normal banking operations rather than dealing with sticky assets. He added words of wisdom to his deliberation, by conveying in crystal clear terms about the expectations from Chartered Accountants in the field of Asset Reconstruction Services.
He remarked that Chartered Accountants are expected to study the factual facts on the part of bankers and borrowers, on case to case basis. This will ensure to have best possible recovery in stressed accounts and role of CAs in the process, will prove to be a real win-win for all concerned. CA Mahesh Rathi, Past Chairman of Nagpur branch, was the guest of honor on the occasion. He elaborated on the provisions of IBC and ARC by chairing the technical session. He congratulated the Nagpur branch for the untiring efforts being taken for the sake of CA members, by organising useful seminars and programmes, at right junctures.
He appealed the members present to gear up for the big professional opportunity in the field of serving the struggling banks, in the matter of recoveries in stressed assets. "Banking is the buzz word for today remarked CA Suren Duragkar, Chairman of Nagpur Branch. With rising levels of NPA's position, Banking system has been in focus. CA Jiten Saglani, Treasurer coordinated the event, which proved very beneficial for the 130 CA members . Present were CA Saket Bagdia, Secretary, proposed the formal vote of thanks. Present were CA Julfesh Shah, CA Kirit Kalyani, CA Akshay Gulhane, CA Harish Rangwani and others.