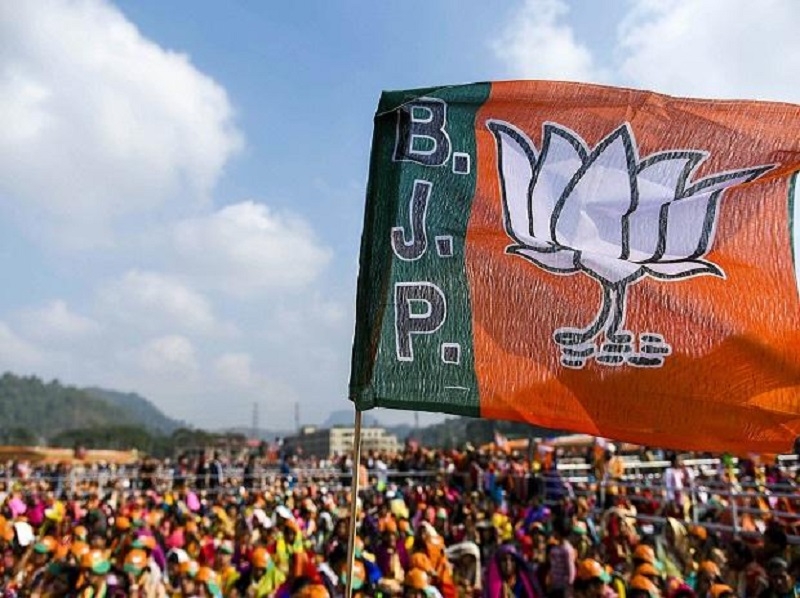 Staff Reporter :
NAGPUR
THE results of elections to six Zilla Parishads (ZPs) were declared on Wednesday. As per the results announced by State Election Commission (SEC), Bharatiya Janata Party (BJP) won the maximum number of seats. Of total 332 ZP seats in six districts, BJP won 103. The elections to six ZPs namely Nagpur, Akola, Washim, Dhule, Palghar, and Nandurbar were held on Tuesday. On Wednesday, counting of votes was done and the results were declared. As per the data provided by SEC, of a total 332 seats in these six Zilla Parishads, BJP won the highest 103, followed by Congress winning 73.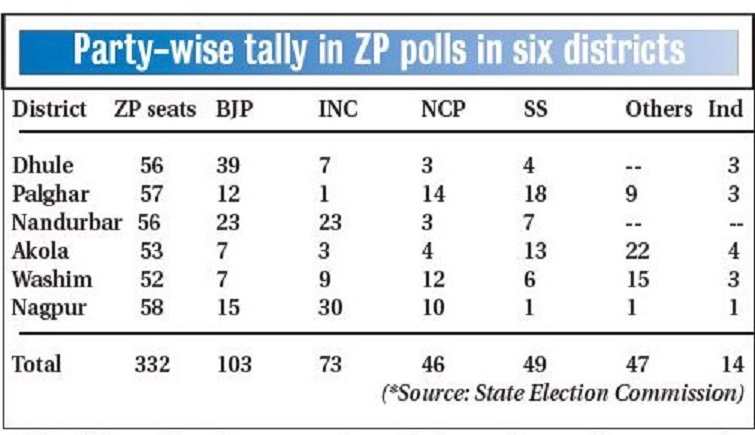 Shiv Sena won 49, Nationalist Congress Party (NCP) won 46, and Others (including unrecognised parties registered with SEC) won 42. Besides, 14 Independents also won the elections. BJP secured a clear majority for the first time in Dhule ZP. It also won two Panchayat Samitis in the district. BJP won 39 out of 56 seats in Dhule ZP, and won Shirpur and Shindkheda PS. Congress got seven, Shiv Sena four, NCP three, and Independents won three seats in Dhule. This is a major gain for BJP, considering the fact that it was ruled by Congress-NCP.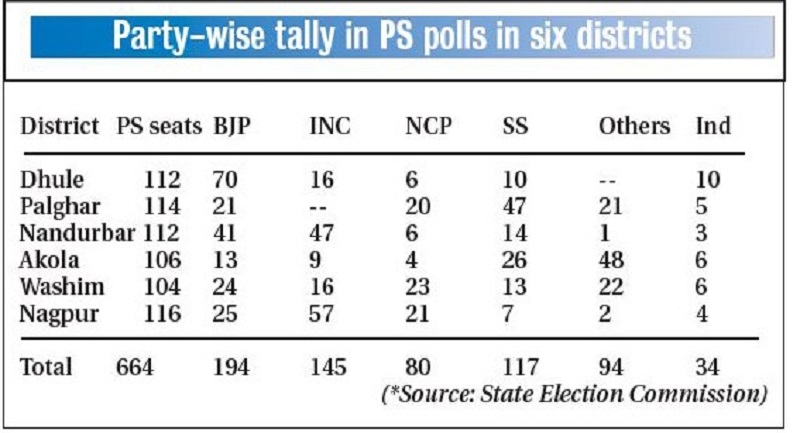 However, in Nagpur, BJP did not fare well. In fact, its tally came down from 22 in 2012 to 15. However, Congress has made some major gains by winning 30 seats this time and securing a clear single-handed majority. In 2012, Congress tally was 19. NCP won 10 seats, posting gain of three seats compared to 2012. However, Shiv Sena proved to be the biggest loser as its tally dropped drastically to one from earlier eight. In Akola ZP, Vanchit Bahujan Aghadi (VBA) led by Adv Prakash Ambedkar bagged 22 of 53 seats. Shiv Sena finished with 13 seats, BJP seven, Congress three, NCP four, and Independents four. VBA is on the verge of becoming the ruling party once again, with support from either Independents or others. NCP bagged 12 seats out of total 52 seats in Washim ZP.
It was closely followed by Congress winning nine seats, BJP seven, Shiv Sena winning six, and Others winning 18 seats. Among 'Others' is Zilla Janvikas Aghadi of former MP Anantrao Deshmukh which won seven seats. Here, no party is in a position to rule the ZP independently. Even if Congress and NCP come together, they have the tally of 21. To rule the ZP, they will need to increase the tally to 27, seeking support of others. In 56-member Nandurbar also, ZP results have thrown up a hung house. BJP and Congress both have won 23 seats each. Shiv Sena has won seven and NCP has bagged three seats. If Shiv Sena joins Congress and NCP, just as it has done to form State Government of Maha Vikas Aghadi, the combined tally of these three parties rises to 33.
Here, Tribal Welfare Minister K C Padvi's wife Hemlata was defeated by Shiv Sena candidate. BJP leader Vijay Kumar Gavit's wife Kumudini Gavit, Congress leader Padmakar Valvi's daughter Seema Valvi, former minister Surupsinh Naik's son Ajit Naik, Shiv Sena MLA Chandrakant Raghuvanshi's son Ram Raghuvanshi were elected. In 57-member Palghar ZP, Shiv Sena bagged 18 seats, followed by NCP winning 14 and BJP winning 12 seats. CPI (M) won five seats, and Congress could win only one. Others won four seats, and Independents won three. Shiv Sena won three more than its previous tally of 15. However, BJP tally dropped from 21 to 12. CPI (M) retained five seats. Among others, Bahujan Vikas Aaghadi tally dropped from 10 seats previously to four this time. The number of Independents also increased by three.