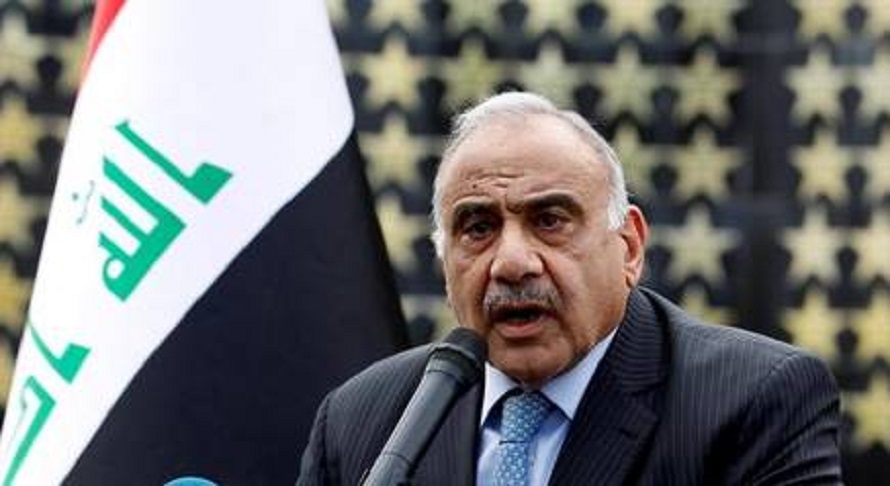 BAGHDAD :
Iraq wants a US troop withdrawal to avoid further escalation as tensions soar between US and Iran, says Adel Abdul-Mahdi
IRAQ'S outgoing Prime Minister said on Tuesday that the United States has no alternative and must pull its troops out of the country, or else face an impending crisis, as the remains of a senior Iraqi militia commander killed in a US strike was brought to Iraq from Iran for burial. Adel Abdul-Mahdi, who resigned in November amid mass anti-Government protests, said Iraq wants a US troop withdrawal to avoid further escalation as tensions soar between American and Iran. His comments came just days after the US airstrike killed Iran's top General. Abu Mahdi al-Muhandis, senior Iraqi commander of an Iran-backed militia, was also killed in Friday's strike.
His remains were brought back to Iraq from Iran to be buried in the holy southern city of Najaf. Thousands of mourners followed the procession from the border, chanting "America is the great Satan." "We have no exit but this, otherwise we are speeding toward confrontation," Abdul-Mahdi said in a pre-recorded televised speech following a weekly cabinet meeting.
He said the "historic decision" was necessary, "otherwise we will not be taken seriously." US troops are present in Iraq based on a request by the Government in 2014, when vast swathes of the country were being overrun by the Islamic State group. But now that IS has been largely defeated, Abdul-Mahdi said, the mission has devolved into a US-Iran proxy war. Iraq was barely starting to recover from the devastating four-year war against IS when mass protests erupted in October against the country's ruling elite, forcing Abdul-Mahdi to resign two months later. He hasn't been replaced.
Withdrawal of US troops will be 'worst thing' for Iraq: Trump
By Lalit K Jha
WASHINGTON :
PULLING out US troops from Iraq will be the "worst thing" for the country, President Donald Trump said on Tuesday, after the Iraqi Parliament demanded expulsion of American forces. Some 5,000 US soldiers are deployed in Iraq as part of the international coalition against the IS terror group. On Sunday, the Iraqi parliament had passed a resolution to terminate the agreement that allows for US troops in the country. Trump said if Iraq expels US troops now, "I think it's the worst thing that can happen to Iraq".
"If we leave that would mean that Iran would have a much bigger foothold, and the people in Iraq do not want to see Iran running the country," he said. In a brief interaction with reporters at the Oval Office of the White House, Trump said at some point the US will want to get out of Iraq. "But this isn't the right point. The other thing is, if we do get out, we've spent a tremendous amount of money on building airports and building one of the largest embassies we have in the world.
We want to be reimbursed to the various costs that we have had," he said. "They're very significant... We don't want to be there forever... I didn't want to be there in the first place to be honest and everybody knows that. That was when I was a civilian I said it, but we were there and they made a decision and I disagreed with that decision very strongly," Trump said.