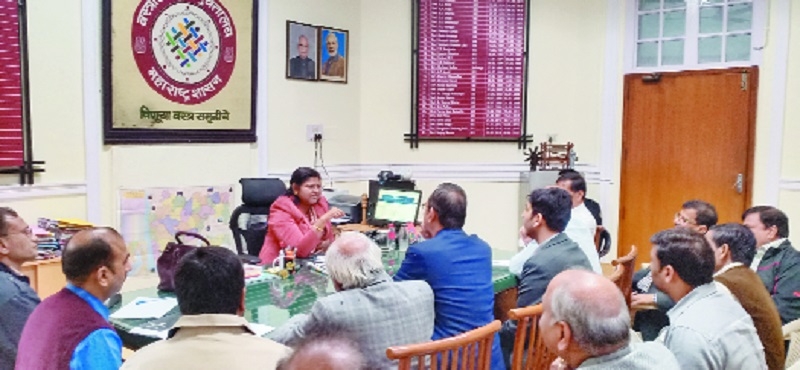 Business Bureau :
THE industrial delegation of VIA under the leadership of Prashant Mohota, Chairman of Energy Forum of VIA held a meeting with Dr Madhvi Khode, Commissioner of Textile, Government of Maharashtra at Nagpur. In the meeting, the delegation presented a representation on issues relating to electrical power subsidy. VIA members came to know through newspaper article that electrical power subsidy under the existing Textile Policy is proposed to be amended.
According to proposed subsidy rates are restricted to 20,000 units per month for powerloom, knitting, hosiery, garment processing, textile industry (excluding spinning mill) and 5 lakh units per month for co-operative and private spinning mills. For more consumption consumer needs to pay at prevailing rates of MSEDCL. The delegation explained to Commissioner of Textile that the present business environment is extremely tough and survival of the textile industry is at stake.
Textile industry is presently reeling under severe liquidity crunch. This liquidity issue is further aggravated by delayed / non-receipt of the subsidies accrued under the Textile Policy. Proposal to withdraw the benefits of Textile Policy 2018-23 would lead to irreversible adverse repercussions and business continuity of textile industry, itself will be in doubt. Further, the industrial fraternity requested for continuation of the benefits stipulated under the existing Textile Policy. Textile Commissioner Dr Madhvi Khode assured that Government is pro textile. She said, "We will discuss this issue with the Ministry of Finance and Textile at the earliest". VIA members Nitin Shrivastava, Vineet Mohota, Jayant Joshi, Mayank Agrawal, Kiran Katare, Nirmal Kumar Jain, Ramesh Randher, Ajay Kumar Saxena, Hemant Mitkar, and others were prominently present.