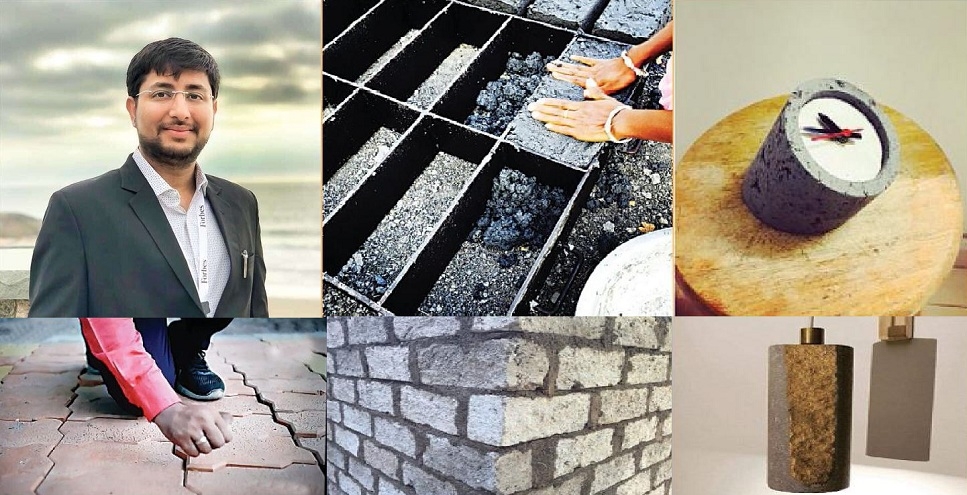 Millions saw the apple fall. But Newton asked why. Millions were aware of the fact that a chewing gum can easily be removed with a piece of paper and that this paper with the gum, after a point of time sets and hardens. But it was young Binish Desai, all of eleven years old then, who pondered and wondered why. His curiosity got the better of him, and it's not without reason that we say that curiosity is the engine of achievement. For, it was this hard ball made of a mixture of chewing gum and paper that proved to be the stepping stone to Binish Desai's stupendous success in the field of providing eco-friendly products, thus promoting sustainability in the infrastructure industry. Going down memory lane, Dr Binish Desai, more famously known as the Recycle Man of India, now three years shy of reaching the figure of thirty years, reminisces about how his journey started.
"My first teachers, who led me into the world of an eco-friendly world were Captain America and Dexter. A voracious reader and a huge fan of these comic characters, I was fascinated by Captain America's bid to work towards saving the planet from many evil forces and I was equally enthralled by Dexter's ability in the labs, mixing potions and gases and coming up with fantabulous solutions that helped the human race. My first innovation was a machine that I constructed which helped the water vapour to condense into water again and I used this recycled water to water the plants in my garden."
That was the year when Binish became conversant with the terms Evaporation and Condensation and used his knowledge to begin practicing what he learned. A year later, the mixture of chewing gum and paper left him spellbound and set the ball rolling for what is now the focus of his entire being. "I started work on this and used other household ingredients in making my first brick," and he laughingly recounts how his first brick made with gum and paper and pink talcum powder and set in a round dabba looked more like a hardened pink roti than a proper brick. The youngster with a very sharp acumen, during this time became aware of the slums and was appalled by the lack of proper hygiene and sad at the dismal sanitation prevalent there.
It was then that he thought of making cost-effective bricks that could be used to built toilets in these slums. When he told his parents and grandparents about how he wanted to build toilets, hell broke loose. They couldn't comprehend why their child would even think about sanitation facilities of the poor and underprivileged.
"They considered it a taboo. But I was adamant. And became more firm after a stint in the USA when I was selected for Rotary Youth Exchange Programme. My Rotary family, impressed by what I had achieved by then apprised me that instead of looking at all this as a hobby, I should take it up as a profession," he states. And his resolute steadfastness in his own capability, over the years has paid off richly, for his list of awards and accolades, is not only long it is highly prestigious too. And why shouldn't it be when the then President of India Hon'ble Dr Abdul Kalam, himself a man of great scientific temper, invited him to the Rashtrapati Bhavan for a presentation about his innovative product - the ecofriendly brick, the formula for which Binish had perfected when he was 14 years. This young boy from Valsad, from a very conservative family, brought up with set ideals, wanted to make a difference in the lives of people, and if that meant going against the family, so be it.
Finances were another obstacle, but that didn't really dither the young lad. Binish approached a paper mill in his area and requested them to give him some space and their waste that they'd otherwise simply throw away. With a mere Rs 1600, working in a cramped space next to a gutter, the committed youngster refined his bricks. Shuttling between college, where he enrolled in BSc Biotechnology and the paper mill, he continued to work, and then hit upon another novel idea where he could kill two birds with one stone. "I asked the paper mill owner to give me some compensation for utilising their waste. The money that they'd pay to the transport to carry away their waste came into my kitty," he explains. Working diligently he'd create 30 to 40 bricks in a day, and in eleven months he had 4000 bricks in his stock.
With Rs 27,000 and 4000 bricks he constructed his first ecofriendly building. News of his innovative achievement spread like wildfire and reached the corridors of Rashtrapati Bhavan from where he got the invitation for a presentation. Recounting his visit to the Rashtrapati Bhavan, Binish guffaws when he narrates that there were a bunch of investors at the presentation who, impressed with his work, wanted to invest money. "But I asked them instead to give me orders for constructing servants quarters or watchmen's cabins or toilets in low-cost housing societies or slums." He clearly wasn't enamoured by money, but wanted his work to spread and benefit people. Which is why, over the years, Binish has managed to involve the company Eco-EclecticTechnologies (ecoeclectictech.com) that he has formed, to be an integral part of the construction projects that order material from him.
"Today, we have 150 products under our umbrella, created from 70 different types of waste products. And we are now not looking at low-cost housing, but eco-friendly sustainable housing. And because we want the profits to be transferred to the buyers too, we have a selective client list of contractors and construction giants. These clients do not overcharge from the buyers citing 'eco-friendly' and 'sustainable'. In the end, the buyer is also benefitted. And because we are involved right from the planning phase, we are aware of their requirements and supply the clients with paver blocks, artificial wood, interior decoration artefacts etc. So it's a win-win situation for everyone." The 27-year-old, for his exemplary work, was honoured by a business school in USA and South Korea.
"When the Universities became aware that a few students were doing research based on my sustainable work, they bestowed the Ph.D degree on him." With the list of awards longer than the number of years he has spent on this planet, Dr Binish Desai, in the coming years can expect it to grow longer. And since he still has many miles to go, one shouldn't be surprised that this innovator, who is a trendsetter in the field of ecofriendly things, adds an award or two every year. While Binish is ecstatic at every award and accolade that comes his way, he finds the smiles of people with whom he associates more rewarding. List of people who appreciate his work is also likely to grow by leaps and bounds as Binish's company is diversifying into many more products. "My wife is working on eco-friendly jewellery that we are planning to launch this Diwali. Also on the anvil is ecocrockery created by coffee waste. We have also collaborated with fashion houses by providing them with masks made from eco-friendly products. These masks have our logo, and after its utility is over, our expectation is that they be returned to us so that we can convert them to other eco-friendly products." Similarly, Binish has joined hands with salon owners from whom he collects hair and uses them to make artificial wood which is used in making furniture.
"The cycle is complete when salon owners buy the furniture made from the hair that they have provided." The biggest gamechanger in his life was his first eco-friendly brick, and now Binish is thrilled with the second prototype of the brick. Labelled Brick2.0, it has the same materials that he used when he brought out his first usable batch. What makes this unique is that we are utilising the discarded PPE kits and masks, which after being sanitized are mixed with paper waste and then moulded into bricks. Results are very positive and I am happy that the plastic waste is being utilised in the best possible manner." Many speculate about the strength of these bricks made from paper waste, but Binish claims that the bricks manufactured by him have more compressive strength than the conventional red bricks.
It hasn't all been smooth sailing for this entrepreneur. From being called 'crazy' by his town people to 'the work is crap', to red tapism at various levels, he's had his fair share of struggles. But to the lad who stood up firmly against his own family, so that he could see his dream take shape, everything else mattered little. With his quiet doggedness and his supreme faith in his own self, Dr Binish Desai is of the opinion that all the bad experiences have taught him a lot. "I owe my success to the failures that I met with me on this journey." Dr Binish Desai is also very optimist about India having the right tools that can make it a leading solution provider of zero waste technology. "Nothing," the waste warrior who was featured as part of the Forbes 30 Under 30 Asia list of successful entrepreneurs concludes, "is useless. What can be a waste to you can be an asset to someone else."