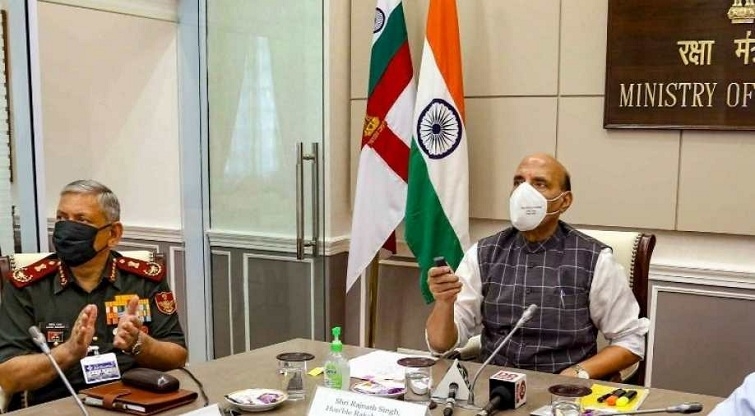 Defence Minister Rajnath Singh dedicates 44 major permanent bridges built by BRO to the nation from New Delhi on Monday. (PTI)
NEW DELHI :
AFTER Pakistan, China is also creating a dispute at the border with India as if it was part of a "mission", Defence Minister Rajnath Singh said on Monday, as Indian and Chinese troops remain locked in a standoff in eastern Ladakh for over five months. The Defence Minister, speaking at an online event after inaugurating 44 bridges, said India is not only facing the situations along the frontiers resolutely, but it is also bringing in major development including in border areas.
"You are well aware of the conditions created along our northern and eastern borders. First it was Pakistan, and now also by China, as if a border dispute is being created under a mission. We have a border of about 7,000 km with these countries where the tension continues," Singh said.
The Defence Minister was speaking after inaugurating the bridges built in strategically key areas of Ladakh, Arunachal Pradesh, Sikkim, Himachal Pradesh, Uttarakhand, Punjab and Jammu and Kashmir. Singh said in challenging times of COVID-19 and despite the border tensions and disputes caused by Pakistan and China, the country was not only resolutely facing them but also bringing about historical changes in all sectors of development. The Defence Minister also laid the foundation stone for Nechiphu Tunnel in Arunachal Pradesh. This 450 metre-long tunnel would ensure all-weather connectivity across Nechiphu pass.
The bridges inaugurated by Singh included 10 in Jammu and Kashmir, eight in Ladakh, two in Himachal Pradesh, four each in Punjab and Sikkim and eight each in Uttarakhand and Arunachal Pradesh. In his address, Singh complimented the Border Roads Organisation for their achievements in improving infrastructure in border areas and said that dedication of 44 bridges in one go in itself was a record.