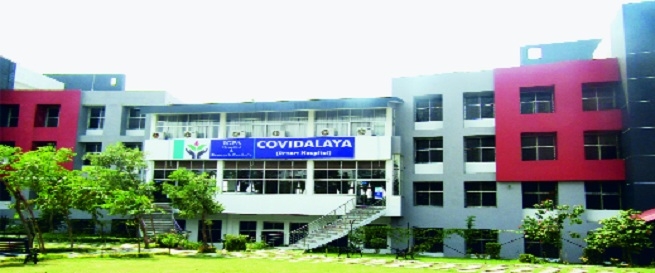 Business Bureau :
Adding one more feather to its cap Gaikwad-Patil Group has ventured into IGPA Hospital and Research Center's 'Covidalaya.' With an intention to sever mankind this humble beginning was initiated by the Group Chairman Dr Mohan Gaikwad-Patil. A team of well qualified and experienced doctors are associated with this research center. Gaikwad-Patil Group of institutions always strive for excellence, keeping this trend alive a team of well-established administrative staff under the guidance of Dr Ashish Batkal who had made sure that all the facilities and amenities should be made available to the Society at large.
The center has the advantage of being located in the arms of nature, and the rooms have a lake view with natural oxygen flowing in, which can make anyone feel rejuvenated. All the rooms are having ultra-modern fixtures with air conditioning. IGPA Hospital and Research Center 'Covidalaya' currently holds the capacity of 100 oxygenated beds and 50 ICU beds, 24Xx7 CCTV and power back up and ambulance facilities, round the clock doctors and nurses to monitor the health conditions of patients.
Experienced physicians, round the clock experienced resident doctors, anesthetist on-call, dedicated, sincere, adequate well-trained staff, 24 hours in house pharmacy and pathology, online follow up by physician post-discharge, CT scan are also available. Utmost care has been taken for the comfort of patients and designated sitting areas, lawns and gardens have been allocated for them.
Facilities such as library, lung rehabilitation programme by physiotherapist and Yoga Guru is provided along with food essential for boosting immunity. IGPA Hospital and Research Center 'Covidalaya' has also had an advanced facility for the relatives of the patients in distress and had extensively taken care of the food and stay facilities for them. For details, call helpline numbers 9529865081 or 9322643236.