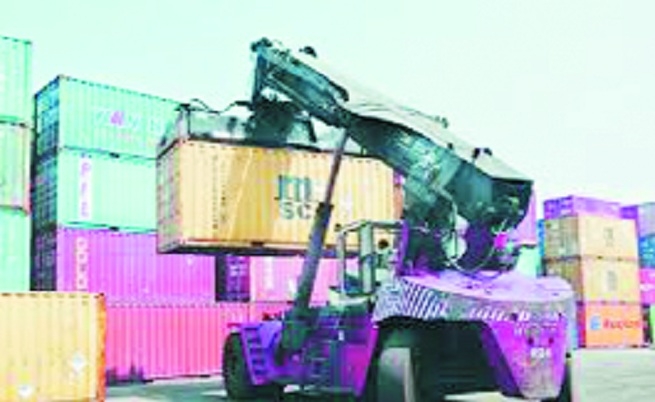 By Ravi Chandpurkar :
Exporters are facing huge container shortage and rising freight rates which may hamper non-Basmati rice exports from Vidarbha. There is a huge pile up of loaded rice in containers at CONCOR-MIHAN and DLI freight terminal, Borkhedi. Containers are not being railed out to the Jawaharlal Nehru Port Trust (JNPT), Mumbai. This is because of lack of space on ships. Shipping lines blame the trade imbalance to be the main reason for the situation.
The current situation may derail the boom in non-Basmati rice exports from Vidarbha region. This was revealed by Shivkumar Rao, President of Vidarbha Economic Development Council (VED) while speaking to The Hitavada. The COVID-19 crisis has disrupted the supply chain as there have been lockdowns in various countries at different time durations.
About 800 to 900 loaded containers of rice bound for exports are stranded at CONCOR MIHAN and DLI terminals. Imports to India has dropped drastically due to which there is shortage of containers. To worsen the situation, the freight rates of shipping vessels from Mumbai to West African ports which were at $1,100 per container to $1,200 per container has shot up to $1,600 per container to $1,700 per container, a rise of 25 per cent to 30 per cent, he said. On a monthly average 4,000 to 5,000 containers are exported from Nagpur. That is expected to rise to 8,000 to 9,000 containers per month with the current agri-export boom. Currently rice is witnessing a bumper crop due to good weather conditions.
Plus there is huge demand for non-Basmati rice from Vidarbha to West African countries. Sources said that further delay in container shipments could hit non-Basmati exports from Vidarbha and a big opportunity could be lost. To aggravate the situation, the loaded rice containers could get spoilt if held up for long period at the terminals. In addition, orders of exporters could get cancelled which would damage the reputation of the country in the international market. To ease the delay in container shipments, international shipping companies should try to allocate more containers and vessels for Indian exports. The Government should intervene and do something about the situation and find a solution at the earliest, sources demanded.