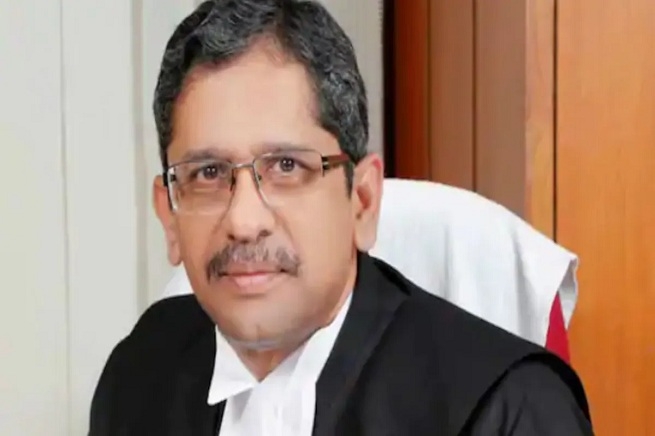 By Arun Srivastava :
It is an open secret that he has been having a running feud with the judiciary for a long. If he was really sure that Justice Ramana was involved in conspiring against him and his Government then why he did not lodge the complaint with earlier CJI? He must not have waited so long.
PROBABLY this is for the first time in the history of Independent India a Chief Minister of a State has cast aspersion on the sitting justice of the Supreme Court N V Ramana and lodged a complaint against him of conspiring against his Government, triggering an unholy controversy. Undoubtedly this is a very serious issue and needs a thorough high level probe. But complain of Andhra Pradesh Y Jagan Mohan Reddy loses much of its sustainability on three counts and gives the impression that it was being done with some other intentions.
It is significant that Jagan launched the complaint just ahead of Justice Ramana is to be elevated as the CJI. This move gives rise to the notion that it is purely an attempt to deny him the opportunity. Jagan has not only complained against Ramana, in fact he has raised accusing finger against the Chief Justice and several other judges of the AndhraHigh Court. This is a very serious matter. It appears that the higher judiciary of Andhra Pradesh has turned anti Jagan. This development raises the question why the judges of AP High Court are against Jagan. Since the judges of AP High Court are at odd with Jagan it obviously implied the malaise is quite deep. If Jagan has found them committing wrong, the judges might also have found some fault with him. This matter ought to be thoroughly probed.
It is universally known that a person complaining against others must have his own clean record and image. The move gains importance as it comes days after Reddy met the Prime Minister Narendra Modi on October 6, and with Union Home Minister Amit Shah. It is obvious that Jagan who has been quite angry with the judges, must have discussed this issue with the two leaders and complained against Justice Raman, CJ of AP High Court and other judges. True enough if Jagan could wait for years then certainly he could have waited for their responses. His writing to CJI S A Bobde after meeting the two leaders sends a wrong message. It is an open secret that he has been having a running feud with the judiciary for a long. If he was really sure that Justice Ramana was involved in conspiring against him and his Government then why he did not lodge the complaint with earlier CJI?
He must not have waited so long. Question ought to be raised why he has turned all the judges against him. The allegation contained in his letter to CJI Bobde has been really revealing. Jagan has alleged that Justice Ramana had used his influence with the erstwhile N Chandra Babu Naidu-led Telugu Desam Party (TDP) Government in the State to favour his daughters. It was also alleged that this specific allegation figures in the FIR that was registered last month on the Amaravati land allotment issue and which the AP High Court has injuncted the media from reporting.
It was also alleged that in another order, the High Court also put on hold a report submitted by the Cabinet sub-committee of the Reddy Government on various acts of commission and omission of the previous TDP Government. Reddy also said that Justice Ramana has played a crucial role in swaying judicial appointments in the State courts. These were done to swing decisions in favour of TDP leaders who are facing multiple corruption charges. He claimed that his Government has established through a probe that former Chief Minister Naidu and many others associated with his party had amassed "huge wealth" by "illegal means". He accused the Supreme Court judge of sharing a close relationship with the former TDP Chief Minister.
"I am making this statement with utmost responsibility. I may only bring it to your notice that a former judge of the honourable Supreme Court, Justice Chelameswar, placed this fact on record with evidence," Reddy's note said. Animosity between Jagan and Naidu has been proverbial. But it is most unfortunate that it was castings its black shadow on the credibility of the highest judiciary. This desperation of Jagan is being viewed as his anxiety that once Justice Raman becomes the CJI, Jagan would be put in more trouble. At some level it implied that he too was on a weak turf. Meanwhile, the leaders of TDP of Naidu, allege that after assuming office of Chief Minister on May 30, 2019, Jagan decided to take on the judiciary head on in the light of his own cases expected to come up for final hearing shortly. They accused Jagan of playing martyr by blaming the Opposition parties and judiciary for his own "sins".
It is also alleged that the YSR Congress chief is trying his best to ward off his imminent arrest in the cases pending trial in the CBI and ED special courts. Jagan in fact has been trying to scuttle the prospects of Ramana becoming CJI by dragging him and his family members into "fictitious" land scams in Amaravati. In the wake of the Supreme Court's direction to the Chief Justices of High Courts to adjudicate over 4,000 criminal cases pending against sitting and former lawmakers, the Telangana High Court directed the CBI special court handling Jagan's disproportionate assets cases to complete its work at the earliest.
Reddy was charged as a prime accused in several cases relating to assets disproportionate to his known sources of income and money laundering by the CBI and the Enforcement Directorate. The CBI had in 2012 filed charges against Jagan accusing him of amassing more than Rs 1 lakh crore of wealth by misusing the office of his late father, Y S Rajasekhara Reddy, who was then the CM of undivided AP. Jagan was arrested in May 2012 and released on bail 16 months later. One thing is absolutely that a serious attempt was being made to politicise the entire issue and malign the judiciary. (IPA)