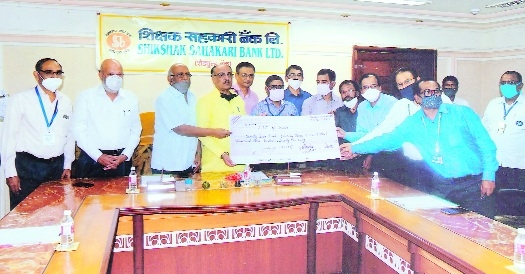 Business Bureau :
Shikshak Sahakari Bank Limited (SSBL) during the current coronavirus pandemic has decided to provide life insurance policy coverage to its employees and meet the financial needs of their families. The Board of Directors of the bank have decided to purchase LIC group insurance policy for its employees. The policy will provide risk cover and safety net to the families of the bank employees in case of death due to COVID-19. The steps taken by the bank for the safety of its employees is an example for others to follow.
During the current world-wide coronavirus pandemic when other businesses were temporarily closed, Central Government gave instructions to keep the banking services running as it is essential service during the lockdown and thereafter the unlock phase. Like other 'Covid Warriors' the bank employees carried out their duties risking their lives to provide essential service to customers.
The bank employees were in close contact with customers and exposed to being infected by the coronavirus and also putting at risk their family members. Even in such critical situation, the bank employees carried out their duties, informs a press release issued here. The bank had taken various safety measures to protect the employees. In addition, the bank has taken the group insurance policy that would take care of the financial needs of employees.
The LIC group insurance policy premium cheque was handed over by MLC Prof Anil Sole, Chairman of Shikshak Sahakari Bank, Anil Mule, Vice-Chairman, Sanjay Narke, Technical Director to Narendra Ghuge, Divisional Manager of LIC, Nagpur. Anil Pokre, Senior Manager of LIC, Devanand Vase, Branch Manager, LIC, bank employees, union representatives Balkrishna Dhoble, Satish Yadav, Anup Patil, Sanjay Katare and Chief Executive Officer Vijay Agrawal, General Manager Vinod Lohkare and other officials were present at the programme.