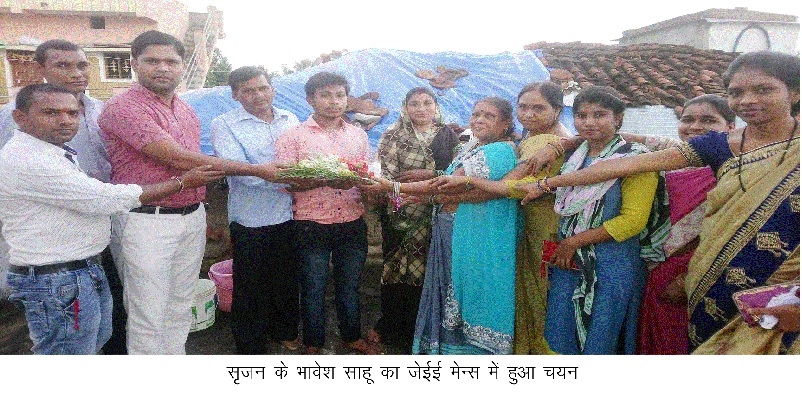 Bhavesh Sahu, a Mathematic student of Srijan Sonkar Vidya Mandir Higher Secondary School, Arang from academic session 2019-20, has made it into the JEE Mains with 93.51 per cent marks. Bhavesh's OBC rank is 19,558 and All India Rank is 69,951.
Bhavesh Sahu, son of Rekhlal Sahu, comes from a farming family. His father also runs a small grocery shop and his mother Dulari Sahu works as Aanganbadi worker at village. Eldest among the three brothers, Bhavesh has always been dedicated to study.
One fresh COVID case detected Only one positive case of COVID-19 was identified in Arang Development Block on Friday. It was relieving for the locals as the COVID-19 cases have come down. Community Health Center Arang is running tests across the block every day. A total of 125 samples were tested, out of which one was found positive. Health Officer Dr K S Roy informed that Community Health Center Rakhi conducted 10 antigen test and found one of them positive. Besides, 16 antigen and 38 TrueNat tests were conducted at Community Health Center Arang. Similarly, 20 antigen and 12 TrueNat tests at Mandirhasoud, 6 antigen test at Farfod, 13 antigen test at Bhansoj and 8 antigen tests were conducted at Kurud Kutela.
People irked over weak mobile network Residents of village Chaprid are facing a lot of problems owing to weak cellular network of Jio telecom company. Students are worst sufferers as they find it impossible to attend the online class owing to erratic signal. Children have been deprived of online classes, which is the only platform to study for them. People can't even talk or surf internet properly. It's been 4 months since installation of mobile tower, but network is extremely weak as BTS aren't yet activated. Jio Company engineer Bhupendra Sarva cited the delay on part of Electricity Department as they are delaying in power up the BTS. Social Worker Virendra Manikpuri demanded sorting out the problem of network issues.