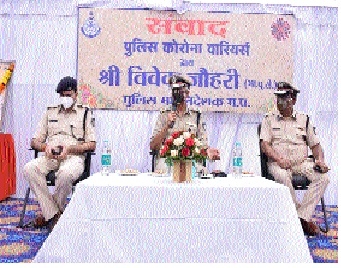 Director General of Police (DGP), Madhya Pradesh, Vivek Johri visited Jabalpur on Friday and held a 'Police Darbar' at Police Lines to seek information from cops on global pandemic of COVID-19. He also offered tributes to the SHO and constable who lost their lives after having fallen prey to coronavirus. Besides he also chaired a review meeting of Superintendents of Police under ambit of Jabalpur zone and hailed the efforts done by the police during last six months.
According to information, a 'Police Darbar' was organised at Police Lines on Friday which was addressed by DGP Vivek Johri. He sought information from cops on varied experiences during six months of covid period. He appreciated the efforts by the police during tough situation caused due to spread of global pandemic of COVID-19.
He felicitated corona warriors on the occasion and said efforts of police
personnel were commendable.Earlier the DGP arrived in the city and inspected guard of honour at Police Lines. Later he offered floral tributes to two police personnel, SHO Khitaula and constable of Yadav Colony. He also held meeting with family members of two deceased police personnel and offered his condolences. The DGP also presided over a review meeting on video conferencing of Superintendents of Police under Jabalpur zone. In course of review meeting, he sought information on law and order situation and efforts to ensure observance of State-wide Roko Toko Abhiyan. During the visit, the DGP was accompanied by Inspector General Jabalpur zone, Bhagwat Singh Chauhan, Superintendent of Police, Jabalpur, Siddarth Bahuguna and other senior officiers of Jabalpur district police.