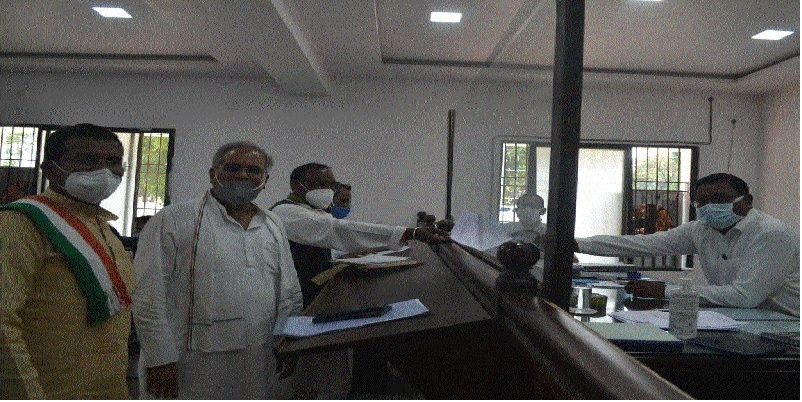 Congress candidate for Marwahi by-poll Dr K K Dhruw accompanied by Chief Minister Bhupesh Baghel and Chhattisgarh Pradesh Congress Committee (CPCC) President Mohan Markam has filed his nominations at Gaurela-Pendra-Marwahi Collectorate on Friday.
Dr Dhruw filed his nominations on the last day of the nomination. Last date for withdrawal of candidature will be on October 19. The polling for Marwahi by-election will be held on November 3. Counting will take place on November 10. Later, Congress Workers' Sammelan was organised at Keshav Kunj Pendra. Chief Minister Bhupesh Baghel, CPCC President Mohan Markam, Home Minister Tamradhwaj Sahu, Revenue Minister Jaisingh Agrawal, Korba MP Jyotsana Mahant, CPCC vice-presidents Girish Dewangan, Atal Shrivastava, CPCC In-charge General Secretary Chandrashekhar Shukla, Congress candidate Dr K K Dhruw, District Congress Committee (DCC) Gaurela-Pendra-Marwahi President Manoj Gupta and other party leaders participated in the Sammelan.
Addressing the Congress workers, Chief Minister said that the Congress party fulfilled its promise by making Gaurela-Pendra-Marwahi a new district. Marwahi assembly constituency seat is a traditional seat for the Congress party. The Congress party has never left the Marwahi assembly seat and it always works for the development of the constituency. The political leaders, who had represented Marwahi assembly seat on Congress ticket, have left the Congress party for their own political benefits, he added.
Baghel has urged the Congress workers to take seriously Marwahi by-poll and ensure the Congress candidate's victory in the Marwahi by-poll. CPCC President Markam and Revenue Minister Jaisingh Agrawal also addressed the Sammelan.
Amit, Richa Jogi both file papers
Amidst prevailing controversy over their Caste status, the Janta Congress Chhattisgarh (J) State President Amit Jogi and his wife Richa Jogi, both filed their nominations for the by-election being held in Marwahi Legislative Assembly on Friday.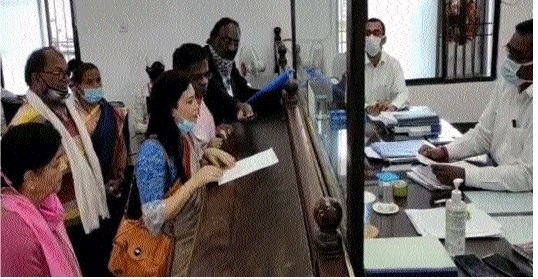 Before filing nomination papers, they visited the mausoleum of former Chief Minister Late Ajit Jogi and paid floral tributes and sought blessings. Friday was the last date for filing nominations for the by-election in Marwahi Legislative Assembly. The scrutiny of the nomination forms will be held on October 17 and candidates can withdraw their names by 3 pm on October 19. On the last day of filing of nomination, the JCC State President and his wife filed their nominations from JCC(J), in the presence of JCC (J) Kota MLA Dr Renu Jogi. Both of them filed their nominations before District Electoral Officer and Collector Doman Singh.
After filing his nomination, Amit Jogi told mediapersons that the ruling Congress government is doing every bit at its disposal to stop Jogi's from contesting this by-election. Jogi said that on the penultimate day of the last date for filing nomination, the ruling Congress government suspended the caste certificate of his wife Richa Jogi and hope that his caste certificate will be suspended shortly. Although both Amit and Richa Jogi filed their nomination for the Marwahi Legislative Assembly by-polls, it would be clear after scrutiny who will contest on behalf of Janta Congress Chhattisgarh (Jogi).
Asserting that the Congress is apprehensive about its victory and fearing the Jogi acceptance in Marwahi, Amit Jogi said it has deployed its 50 MLAs and 6-7 Ministers to influence the voters and distributing sops like ornaments, cash, saris, utensils and what not. He asked as to why the Congress is apprehensive from the popularity of a single family asked Jogi while adding that the Congress had acceded its defeat on the very first day when the by-elections were announced. He said the Chief Minister wants to contest but he is not ready to allow any opponent in the field, then what is the meaning of such victory which has been contested without any opponents. He said the exercises initiated by the ruling Congress in the last few days in Marwahi has made it a stooge.
Amit Jogi further added that he is only a symbol, but the actual election is being fought by the 2 lakh strong population of Marwahi. Despite all kinds of tricks and atrocities meted against him and his family members by the ruling Congress, the people of Marwahi will elect him unanimously for their love for the Jogis.