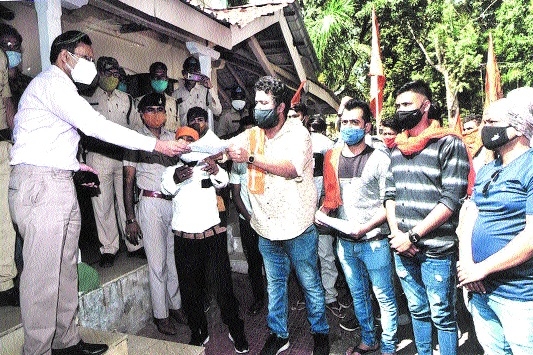 A memorandum of demand seeking to sack Dr Rajkumari Bansal, serving as FSL expert in Medical College in view alleged anti-national activities, was handed over to Divisional Commissioner B Chandrashekhar. The memorandum was handed over by a delegation of Hindu Sewa Parishad (HSP) who earlier staged demonstration in the campus of the Divisional Commissioner's office.
According to information, a delegation of HSP handed over a memorandum of demand seeking to sack Dr Rajkumari Bansal, FSL expert in Medical College. It is informed that Dr Rajkumari Bansal had visited Hathras without prior information to senior officials at Medical College and Hospital. Also that she was allegedly involved with Naxal outfits and after her return to Jabalpur, she also visited Muslim dominated areas and gave provoking speech against administration in a function of Jamate-e-Islam which went viral through video footage. The conduct of Dr Bansal could not be considered as fit in accordance with her profession, it was alleged.
HSP members, who reached the commissioner's office, staged demonstration. Officials from the office of the Commissioner insisted that the memorandum would be taken on behalf of Divisional Commissioner by another officer. This peeved the HSP members who then started raising slogans, as the Divisional Commissioner was busy in video conferencing meeting.