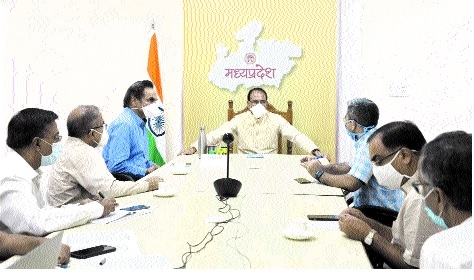 Chief Minister Shivraj Singh Chouhan instructed top officials to keep close watch on people, connected with the illegal trade of intoxicants, illegal supply and sale of such substances. Such people should be arrested and such drug dealers be crushed. Strict action should be taken against the culprits, if such items are being sold at other places like Ujjain.
Chief Minister was reviewing the action taken against the culprits in connection to deaths, caused in Ujjain due to the consumption of poisonous intoxicants, at a meeting held at his residence on Friday. It was informed in the meeting that guilty and negligent policemen have been suspended in Ujjain. About one and a half thousand liter of liquid intoxicants have also been seized. Such action is underway in other police zones also. Police staff are searching and arresting the people, who are operating this business.
CM also directed the Health Department to take strict steps against the people, who are selling and supplying such substances. He said that preventive statutory steps should be taken by investigating and studying the source of such liquor or other intoxicants, their licensing and supply. Chief Secretary Iqbal Singh Bains said that they are finalising the outline of a campaign in this regard.
SIT starts probe into Ujjain hooch tragedy
Special Investigation Team (SIT) has commenced probe into Ujjain hooch tragedy which had claimed twelve lives. A team comprising Additional Chief Secretary, Home, Dr Rajesh Rajoura, Additional Director General of Police S K Jha and Deputy Inspector General of Police Sushant Saxena reached Ujjain and started investigation in all aspects of the case.
As many as twelve people have died due to consumption of suspected denatured spirit in Ujjain. Investigation team made inquired people by visiting Ujjain's Chhatri Chowk, Regal Talkies, Kharakua Police station areas as well as various Ren Baseras. Collector Ujjain Ashish Singh and Superintendent of Police Manoj Kumar Singh also accompanied the investigation team.
It was on the directive of Chief Minister Shivraj Singh Chouhan that SIT was formed to probe the Ujjain hooch tragedy. Already the main accused of hooch tragedy was arrested by Ujjain police late on Friday night when he was trying to flee to Uttar Pradesh.
Already four cops, including Kharakuan police station incharge, were suspended by Ujjain SP Manoj Kumar Singh on Thursday. Apart from this around ten people were also arrested apart from main accused Yunus. It is after Ujjain hooch tragedy that state government has started to crack the whip against people involved in illicit liquor sale across the State.