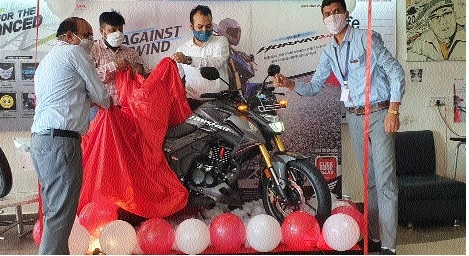 G K Honda, the authorised seller of Honda Motorcycle and Scooter India Private Limited e-launched the new 'Hornet 2.0' motorcycle here at its Telibandha-based showroom on Friday.
General Manager of G K Honda Mantosh Kumar launched the new motorcycle in the presence of staff and customers.
Speaking on the occasion, Mantosh Kumar elaborated on the special features of the Hornet 2.0 motorcycle. The new motorcycle has world class advance smart ESP technology that gives high power as well as high engine capacity of 185cc. The Hornet 2.0 has PGMFI engine. He further said that the price of this motorcycle is Rs 1, 27,955 (ex-Raipur showroom) and it is available in all colours.
As a special on the auspicious Navratri festival, G K Honda has announced Super 6 offer that will provide savings of up to Rs 11,000 to the customers plus 100 per cent finance facility at the minimum of 7.99 per interest and cash back of up to Rs 5,000 to credit/debit card holders. This special offer is available on purchasing all Honda vehicles from October 11 to November 26.