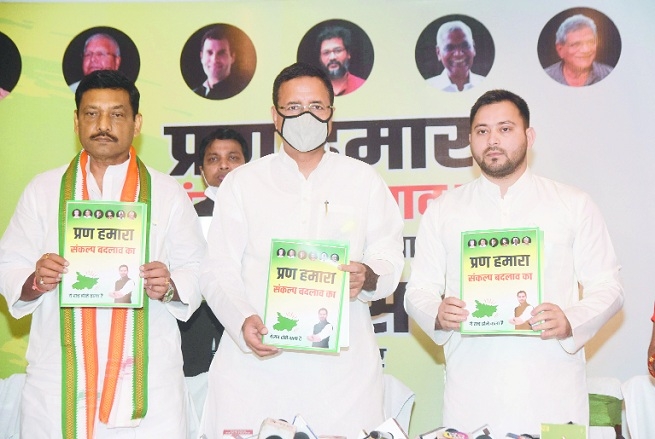 RJD leader Tejashwi Yadav (R) and Congress General Secretary Randeep Singh Surjewala (C) during a joint press conference ahead of Bihar Assembly elections in Patna on Saturday. (PTI)
PATNA :
THE RJD-led Grand Alliance (GA) on Saturday released its joint manifesto for the upcoming Bihar Assembly elections, promising to offer jobs to 10 lakh youngsters and repealing the new farm laws recently enacted by the Central Government if they are voted to power. Releasing the manifesto titled "Badlav Ka Sankalp" (commitment to change) in the presence of All India Congress Committee (AICC) General Secretary Randeep Singh Surjewala and other Mahagathbandhan leaders, Tejashwi Yadav said their Government, if elected, would first approve the process for appointments on about 10 lakh jobs in the Government. "Contractual teachers would be entitled for same pay for same work, for which they have been agitating for long," said Yadav, who is the Opposition chief ministerial candidate.
Assuring the people that the coalition will stand by its commitments, Yadav said that they were not leaders who conveniently forget their promises and that the state has still not been accorded a Special Status -- a demand echoed for years by political parties in Bihar. "(Donald) Trump will not come to accord Special Status to Bihar, which was once promised by the Prime Minister," said Yadav, in an apparent reference to Prime Minister Modi's ties with the US President.