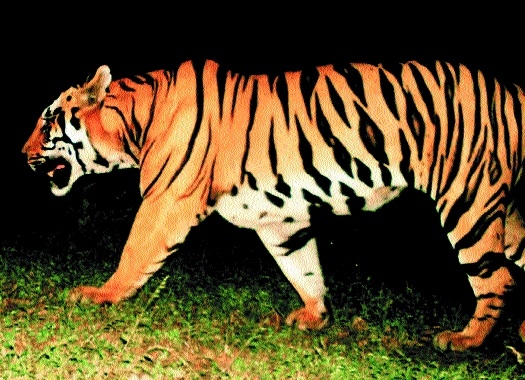 Staff Reporter & Chandrapur Correspondent :
Forest Department has come up with an old and unique technique to capture the troublesome RT-1 tiger by deploying one tranquilising expert and veterinarian inside a cage near the bait to trap the beast. The department is using all old and new methods to capture the tiger and this method is also one of them. Clearing the air on confusion over the method, the senior forest officials said, though the technique is unique, it was adopted in the past too. N R Pravin, Chief Conservator of Forests (CCF), Chandrapur said, "Deploying experts in a cage near the bait is an old technique of capturing such beasts and now we are also practising this since October 11 in the jungle."
"There is no threat to human life as we keep them inside a cage with one ready with a tranquiliser gun to protect them and trap the animal. We also create a camouflage around the cage to keep them safe," informed Pravin while talking to The Hitavada. While talking about the beast, the CCF said, "The tiger is clever and never visit the same hunting spot twice.
The beast is also aware about the machan so we can't deploy our men over it." "We have a single target to tranquilise the beast in the jungle. The shooter and veterinary doctor sat in the cage near the bait (a goat) so that they can fire the dart on tiger from close range," he added. The CCF also stated that the technique was used many times in the past to capture the beast in the jungle under Central Chanda Division. However, wildlife activist Parag Dangre, who is also monitoring the operation, said, "There are three cages placed near a machan. In the first cage, two persons trained in tranquillising technique are deployed. In the second case, a bait is kept while there are two other persons in the third cage making noise for the tiger who is said to being getting attracted to human voices."
Dangre added that it was a complete violation of rules and the forest department was putting human life in danger with such practices. The tiger has killed eight persons and over 20 cattle so far. The intelligent beast had made its first kill back on January 18, 2019 in Khambada forest under Rajura range. Three teams have already been formed to capture the troublesome tiger under Arvind Mundhe, Deputy Conservator of Forest, Central Chanda Division. The three teams have been formed in Wirur, Rajura and Kothari Ranges to capture the beast. Ranger Rakhunde; N J Shende, Forest Labour; Police Constable Ali; Ranger Nandgirwar; S G Wesurwar, Forest Labour; Forest Guard Yere; M K Pandar, Forest Labour; G G Bankar, Forest Guard; P D Dhote, Forest Labour; Ranger Nagare; L B Rohane, Forest Labour; P V Anmulwar, Forest Guard; R T Tekam, Forest Labour; Forest Guard Pendar and V M Shende, Forest Labour are deputed by the department for trapping the tiger by shooting dart from the cage