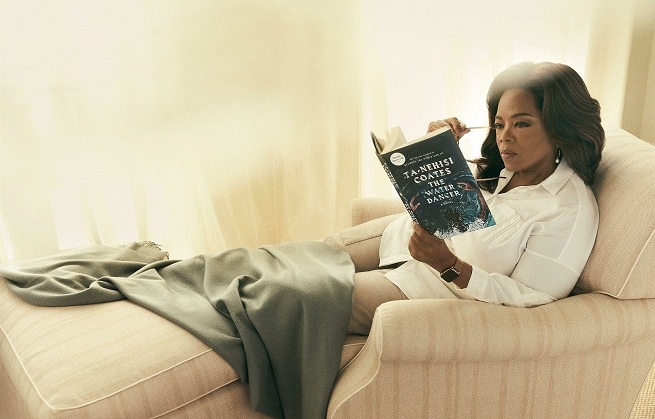 Oprah Winfrey with book.
By Vijay Phanshikar :
"Everything I do all day, I do is in
preparation for my reading time. Give me a great novel or memoir, some tea, and a cozy spot to curl up in, and I'm in heaven. I love to live in another person's thoughts; I marvel at the bonds I feel with people who come alive on the page, regardless of how different their
circumstances might be from mine. I not only feel I know these people, but I also recognise more of myself. Insight, information,
knowledge, inspiration, power. All that and more can come through a good book.
I can't imagine where I'd be or who I'd be without the essential tool of reading. ...
Book, for me, used to be a way to escape. I now consider reading a good book a sacred indulgence, a chance to be any place I choose. It is my absolute favourite way to spend time. What I know for sure is that reading opens you up. ..."
-- Oprah Winfrey,
in her wonderful keepsake book
'What I Know For Sure'
Pages 25-26.
Oprah Winfrey states a universal truth about reading. Everybody who is fond of reading is actually preparing all the day for the time with books. For, those moments offer him a safe cocoon in which a world exists all by itself -- between the covers, on the pages, through the plots and stories and characters. And it also is a world in which you -- the reader - also have a chance to be a character, though occasionally from outside the sidelines.
So, start your day as usual, get ready to go to work, slog through long hours, deal with people, spend tense moments at work, make friends -- and occasional foes -- and then return home in all eagerness to cozy up in a silent spot with a book in the hand, having delved into the world between covers. A cup of tea or coffee completes the picture of comfort that needs no embellishment. That is the charm of books -- as everybody whoever picks up a book experiences. That charm, that silent sense of ownership of that little world that peeps from the pages, that wonderful sanctuary of happiness that engulfs you, embraces you, caresses you -- and concerns you in every which the way -- is something that no one can snatch away from you. That is your domain of delight. Unfortunate are those who do not delve into the books and bask in its charm. Unfortunate are those who do not feel attracted by the book.
And most unfortunate are those who never get introduced to books the way Oprah Winfrey and countless millions of others around the world get. For, they know not what they have missed. They know not how unfulfilled lives they live. But anybody who knows the comfort of living with books will always tell you how one has a treasure-trove of sheer happiness which one can resort to any time. That is where character is built. That is where civilisation's first sense of human dignity is woven into personality. Oh, as I write this, I am already missing my book into whose world I would dive in the night.