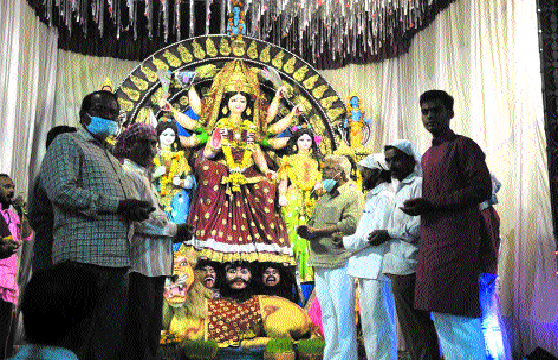 Durga Puja was celebrated with fervour and gaiety in State capital. In some areas devotees were asked to wear mask to get entry to puja pandals. Mata Mandir witnessed good rush from morning hours and special puja was conducted on the occasion of Durga Ashtami. People are allowed to give offerings from distance and queue was also maintained by volunteers.
In various areas Maa Durga's pandals are decorated with colourful lights and flowers from all around.
Aarti of Matarani is being performed in the morning and evening. In some pandals mask counter has been made near the tableau where NGO volunteers along with Durga Samiti are seen distributing the mask.
Sanitisers are also being distributed to the needy in areas like Avadhpuri. In Kolar area on an average daily 50 to 60 devotees are seen in different Durga Puja pandals.
Every month 51 to 101 lamps are being decorated in pandals decorated by the New Market Durga Puja Pandal, Bittan Market, Haat Bazaar Committee. On Friday evening, the Mahaarti was performed with grand decoration of Mataji at Shri Nav Durga Utsav Samiti, Chowk Bazar, Jahangirabad.
The women devotees all decked up attended the Mahaarti. Little girls played Dandiya in small circle in premises as a part of rituals.