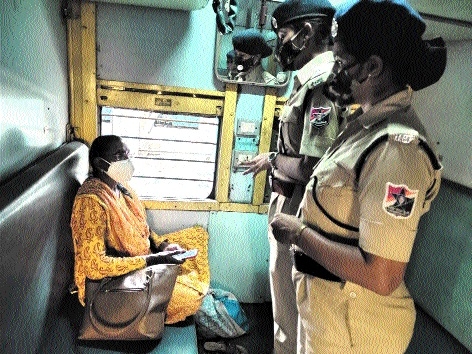 Railway female cops interacting with passenger in train.
Staff Reporter :
Concerned over the safety of female passengers, especially during festivals, Bhopal railway has started 'Meri Saheli' campaign in all trains passing through various stations of the division. In this campaign, Railways female cops are interacting with female passengers travelling alone in the train. They are guiding the passengers for safety issues and also making them alert towards suspected incidents during the journey. They are also informing passengers about the helpline numbers and other safety features being provided by Railways. Bhopal Railways has also deployed female police team name as 'Avanti Bai' and 'Ahilya Bai' in trains and stations to strengthen security of women passengers.
The team is interacting with the female passengers in all trains passing through station of Bhopal division and making them aware of safety issues. They are also promoting usage of railways helpline no 182 for the passengers after facing safety issues.
The team of female cops is working for 24 hours in shifts. Team Avanti Bai Vahini has been deployed to visit trains in Bina-Bhopal, Bhopal-Itarsi and Itarsi-Bhopal while Ahilya Bai Vahini assigned in Itarsi-Khandwa, Khandwa-Itarsi, Itarsi-Bhopal and Bhopal-Itarsi trains. The team includes one sub inspector, two female constables, two male constable.