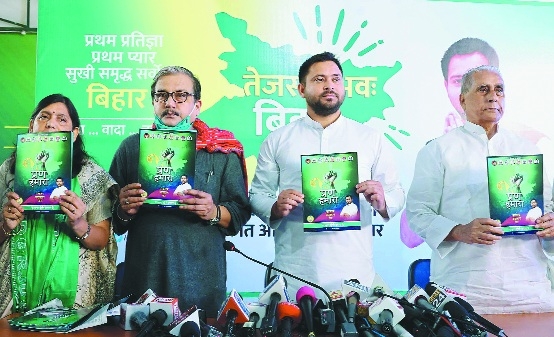 RJD leader Tejashwi Yadav (2nd R) with party MP Manoj Jha (2nd L) and
others release party manifesto for Bihar Assembly election at party office, in Patna on Saturday. (ANI)
By Sahil Pandey :
PATNA,
RASHTRIYA Janata Dal (RJD) leader Tejashwi Yadav on Saturday released the party's manifesto for Bihar Elections 2020 that focused on providing 10 lakh Government jobs for youth, higher Minimum Selling Price (MSP) rates for farmers, better health care facilities in the state and also plans to develop 'smart village' concept. "This is not a manifesto, this is a resolution and this will become a reality. I assure you that I will sign papers to ensure jobs to 10 lakh people on the very first day of the Cabinet meeting. People used to make fun of where we will generate employment. Now, you must understand there is a difference between employment and job.
Here we are talking about Government jobs," Tejashwi said. The manifesto also talks about the concept of "equal pay for equal work' along with providing Rs 1500 unemployment allowance for youth up to the age of 35 years, for the people who do not have a job. Defending his 10 lakh job promise and attacking the Bharatiya Janata Party (BJP), Tejashwi said," BJP is promising jobs but Nitish Kumar says there is no money. Who are they trying to fool?" On farmer issues, the manifesto aims to increase the farmers' income and promises to waive off loans. The procurement of farm produce will be done with a bonus on minimum support price. Tejashwi also spoke about the smart village concept in which concrete roads will be constructed and every Panchayat will have free computer centres for locals.
For the betterment of health infrastructure, every district will have a dialysis centre and it would be free for the poor. At the Panchayat level, a primary healthcare testing facility will be provided. The manifesto promises for an education budget to be 22 per cent of the total state budget and teachers will be inducted in Government schools on a war footing along with a focus on e-learning for students. Bihar will vote for a new Government across three phases starting October 28, with results due on November 10. It is noteworthy to mention that the manifesto's cover page does not have former Bihar Chief Minister Lalu Prasad Yadav's picture, who is also Tejashwi Yadav's father.
Nadda focuses on 'future of Bihar' at Nalanda rally
NEW DELHI,
Oct 24 (IANS)
A DAY after Prime Minister Narendra Modi lashing out at the RJD and the Congress, making 'jungle raj' of the Lalu era his focal point, BJP President J P Nadda's focus on Saturday at his Nalanda rally in Bihar was jobs, developmental projects and work done during the lockdown. Talking about jobs, something that concerns young voters and has been used for electoral promises both by RJD and the LJP, Nadda said, "There will be self-sufficient Bihar through self-sufficient India."
It is the responsibility of the Government to create employment opportunities in Bihar and NDA's Nitish Government will do the work to provide employment to 19 lakh people". Nadda also made an attempt to blur caste lines by presenting development and jobs as a unifying factor. "Previously in elections, candidates used to ask for votes on the basis of caste and class. Narendra Modi has changed the tempo, character and culture of Indian politics. Now, if anyone wants to ask for votes, then he or she needs to present the work done and on the basis of that a report card," said Nadda, while addressing a crowd at Bihar Sharif in Bihar's Nalanda district. He added that ever since the Modi Government came to power, 11 medical colleges have opened in the State.
He also cited the extension of Railway lines and roads. He added that it is Nitish Kumar who can take Bihar "on path of development". However, Nadda did not skip mentioning law and order during the era of Lalu Prasad, whose son Tejashwi is now the CM face of the Cong-RJD alliance. "There is anarchy in the nature of the Rashtriya Janata Dal, even once they have not apologised to the people of Bihar for their mistakes. This means that the motives are still the same," alleged Nadda. However, Nadda wanted his address to centre around the future of Bihar rather than its past.
Probably that's why he remarked, "The election of Bihar is not just the election of leaders but the election of Bihar is the election of your future." While the RJD has promised 10 lakh jobs, the LJP which decided to go solo has been harping on the issue of 'Bihar first, Bihari first' appealing to mainly first-time voters and the young and restless in the State.