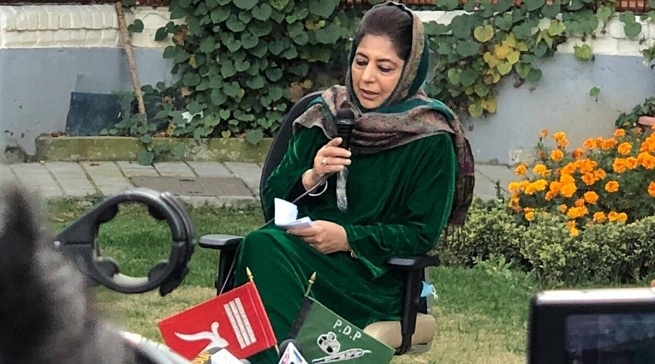 THE arrogant assertion by former Jammu and Kashmir Chief Minister and People's Democratic Party (PDP) leader Ms. Mehbooba Mufti about India's national flag needs to be condemned by every Indian. She has said that she would unfurl and salute the national flag -- which she called 'the other flag' -- only if the J&K State flag is also unfurled simultaneously. Any such condition should be termed as an act of insult of the national flag and national honour. But Ms. Mufti has been blinded by the narrative which a few Kashmiri political parties and leaders are pushing -- restoration of the pre-August 5, 2019 status.
They want Special Status to be restored -- with two flags, two constitutions and separate law that would keep central laws out of consideration in Kashmir. Ms. Mufti's statement about the national flag stems from that combative stance which has no constitutional standing after the abrogation of Articles 370 and 35A of the Constitution of India. Time has, therefore come, to flag Ms. Mufti and her cohorts in the agitation down in a comprehensive manner. It was unfortunately true that in one weak moment, the then Prime Minister Pandit Jawaharlal Nehru had accepted the arrangement of two flags and two constitutions and a separate law for Kashmir.
And the bigger misfortune was that Pandit Nehru had not consulted the Union Cabinet while granting acceptance to the awkward and perverse arrangement. Subsequently, as authentic historical accounts endorse, Pandit Nehru got a post-facto approval of the Union Cabinet for the arrangement which the common Indian people never accepted. Much to the contrary, the common people carried for full seventy years a sense of betrayal at the highest level, on that count. Visionary leaders like Dr. Syama Prasad Mukherjee led a national movement against the perversion in Kashmir, and made highest sacrifices for the cause. That perversion, that historical blunder, was corrected when both Houses of Parliament passed a Bill that called for an immediate abrogation of Articles 370 and 35A of the Constitution of India from Jammu and Kashmir.
That was also the time when the State of Jammu and Kashmir was split into two Union Territories (UTs). That historic decision, however, deprived a clutch of political leaders from Kashmir of their power that came from the temporary arrangement of the Special Status. Now that the change has been brought about through a legitimate legal, constitutional process through parliamentary channel, the new arrangement has been granted permanence and cannot be altered. But the Kashmiri leaders promoting separatism -- and even supporting terrorism indirectly -- like Ms. Mehbooba Mufti have refused to see sense and see the reality.
By following that combative path, they are only supporting divisiveness. In that mad enthusiasm, they are making statements that should be branded as plainly anti-national. One of those statements wish to declare that the Kashmiri people would rather like to be ruled by the Chinese. In another statement, they have accused Prime Minister Mr. Narendra Modi of having misled them about the new arrangement. And now comes the third one -- by Ms,. Mehbooba Mufti -- that she would accept the national ('the other') flag only when J&K's State flag was also hoisted alongside.
This is an obvious attempt to build an anti-Indian narrative in Kashmir, and it should be treated as an act aimed at subverting unity, integrity, sovereignty and dignity of the Indian nation. And no such act should be pardoned. These people need to be tried for their anti-national statements and actions in real time and be made to suffer appropriate consequences, no matter who they are. They should be shown their place -- behind the bars.