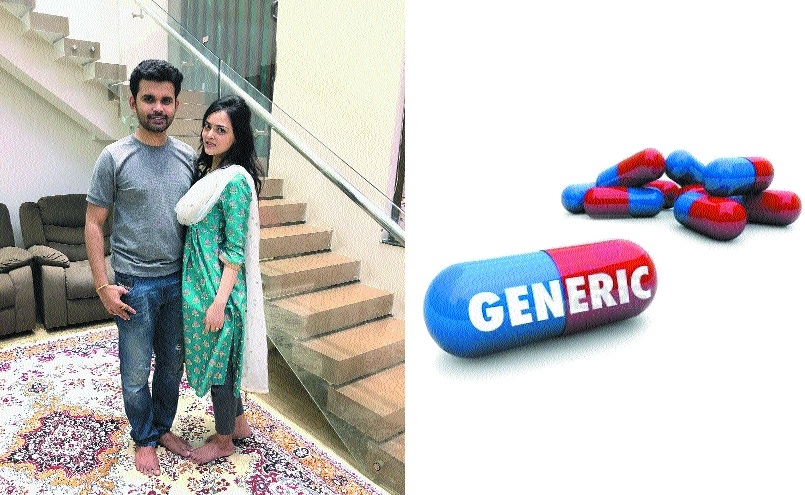 Abhijeet Daigavane with wife Rumani.
By Gaurav Lakhe :
If a medical store owner cites non-availability of any particular medicine mentioned in the prescription, many among us ask for an alternate medicine. Realising this issue of unavailability and also to promote generic medicines, city youth Abhijeet Daigavane and his wife Rumani have come up with an application that will give the option of alternate generic medicine with same combination of drug. This one of its kind app 'DuWah' is designed in such a manner that it will provide the user a list of alternate generic medicines available in the market after the user enters the name of medicine prescribed to him. "Promoting generic medicines, highlighting Indian pharmaceutical companies, and my urge to do something unique in life were some of the factors behind the concept," said Abhijeet Daigavane, an entrepreneur who runs a startup Atom O'Sphere. Discussing further about the application, Abhijeet said that I always wanted to promote generic medicines so I came out with this concept.
I discussed the same with my wife Rumani, who is HR recruiter and trainer with a multinational company. Convinced with my idea, Rumani helped me in gathering required data of generic medicines available in the market that can be easily used as an alternative to those costly foreign medicine, said Abhijeet. When I went through the data, I decided to develop a platform where anyone can find the alternate generic medicine to the costly medicines one consumes. Later, Rumani and I started gathering details and working on the concept. But, the main focus of our research was to select those medicines only that have the same salt (drug). However, we have also put a disclaimer on our app which clearly says that the user must consult the alternate medicine with his/her doctor, added Abhijeet. To convert a concept into reality, requires a lot of hardwork, technical and financial support.
Talking about the process involved in turning the concept into an application, Abhijeet said, "Since Rumani and I both are from technical background, we were able to handle the technical part of the developing app, but our friend Ravindra Yadav helped us with coding part of the application. Now, Ravindra is also the head of our IT Department," informed Abhijeet. When one starts with something new or different, one has to face a lot of highs and lows. At this moment, everyone needs a motivation and also help. Kumar Raj is the person who helped Abhijeet financially and kept his motivation-level high throughout the journey. He also invested funds in the project. For Abhijeet, Kumar Raj is his mentor-cum-partner.
"The main motive behind developing the app is to make people aware about the market of generic medicines and also realise people about how cost-effective or cheap our medical treatments can be if we start using generic medicines. I feel this can surely bring some revolutionary changes in present medical world," expresses Abhijeet. I am going to meet State Health Minister Rajesh Tope. I will give a presentation on the app and explain its role and uses.