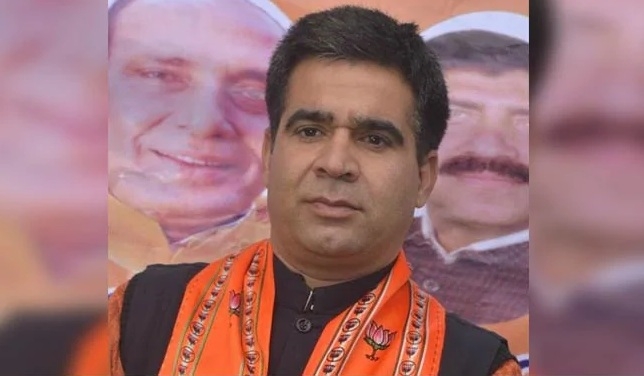 JAMMU :
EVERY inch of Indian land that is occupied by Pakistan and China will be taken back, even if it means using military might, Jammu and Kashmir BJP chief Ravinder Raina said on Monday. He also attacked former Chief Minister and PDP supremo Mehbooba Mufti for her remarks on the tricolour, saying that "if such leaders want to stay in India", they have to honour the national flag.
Mehbooba on Friday had said she was not interested in contesting elections or holding the tricolour till the constitutional changes enforced on August 5 last year were rolled back. The PDP leader had also said that she would hold the tricolour only when the separate flag of the erstwhile State of Jammu and Kashmir was restored. On Mehbooba's recent remarks, Raina said, "If such leaders want to live in India, they have to honour the tricolour otherwise they will be dragged out of the country and thrown into Pakistan."
The J&K BJP chief, who led a 'Tiranga Rally' from Gandhi Nagar to Maharaja Hari Singh Park here to mark accession day, said Maharaja Hari Singh, the last Dogra ruler, had acceded entire Jammu and Kashmir to India on this day in 1947. Pakistan and China have to vacate the Indian areas they illegally occupy as the accession of Jammu and Kashmir was full and final with India, he said during the rally that was organised by the BJP's youth wing, Bharatiya Janata Yuva Morcha (BJYM).
BJP SUPPORTERS TAKE OUT 'TIRANGA RALLY' IN SRINAGAR: A 'Tiranga rally' was taken out by the BJP in Srinagar on Monday to celebrate the 73rd year of accession of Jammu and Kashmir with the rest of the country. The Jammu and Kashmir had acceded to the Union of India on October 26, 1947. Senior leaders of the State BJP and party workers raised slogans while participating in the car rally held amid tight security from the Tagore Hall in Srinagar. The rally passed by the residences of former Chief Ministers Farooq Abdullah, Omar Abdullah and Mehbooba Mufti on Gupkar Road.