Chirag alleges Nitish's involvement in 'Saat Nischay' scam, vows to jail him if found guilty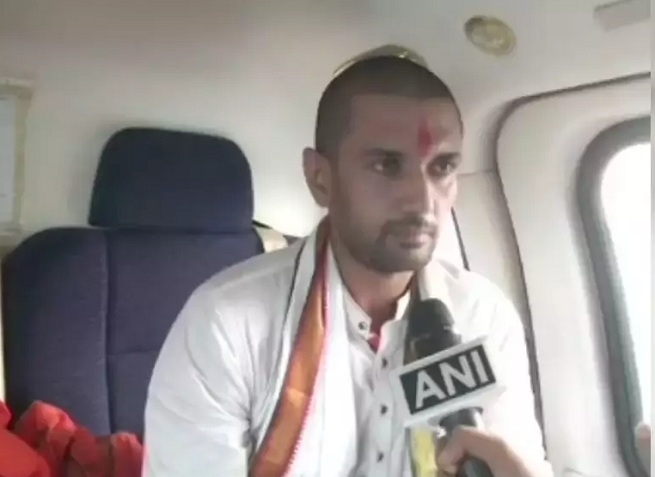 PATNA,
A DAY after claiming that Bihar Chief Minister Nitish Kumar would be put behind bars if his party is voted to power, Chirag Paswan, Lok Janshakti Party (LJP) chief on Monday called Kumar a "corrupt" leader and accused him of being involved in corruption in 'Saat Nischay' (Seven Resolves). "I said that if they are guilty, they will be sent to jail after probe. How can it be possible that Chief Minister Nitish Kumar doesn't know about large-scale scams and corruption?
He is involved too. If not, it will be clear in a probe. But people and I believe that he is involved, he is corrupt," Paswan told ANI on being asked about his allegations against Nitish Kumar over 'Saat Nischay.' On Sunday, addressing a rally in Dumraon, Buxar, in the run-up to polling in Bihar, Paswan said, "I am making a promise to you today - the corruption in '7 Nischay' (scheme) will be probed when LJP comes to power and those at fault, whether it is CM or any official, will be sent to jail."
The Rs 2.7-lakh-crore 'Saat Nishchay' (Seven Resolves) scheme was announced by Nitish Kumar before the 2015 Assembly elections which he had fought against the BJP as part of the Mahagathbandhan with RJD and Congress. Electricity, sewage connection, toilets, piped drinking water and metallic roads, water to farmer's field were some of the components of the scheme, which was launched to counter Prime Minister Narendra Modi's Rs 1.25 lakh crore special package for Bihar. On October 10, Chief Minister Nitish Kumar announced Janata Dal United's (JDU's) "7 Nischay part-2" plan for the development of the State and making it self-reliant in the coming years.
60 scams occurred under Nitish's leadership: Tejashwi
PATNA,
Oct 26 (ANI)
RASHTRIYA Janata Dal (RJD) leader Tejashwi Yadav on Monday said that besides unemployment, inflation is the biggest issue in Bihar Assembly Elections as onion prices are skyrocketing. He also alleged that 60 scams to the tune of about Rs 30,000 crore have taken place in the State under the leadership of Nitish Kumar. "Inflation is the biggest issue. BJP people used to wear a garland of onions. Now it is about to touch Rs 100/kg. Those who were speaking about onion when it touched Rs 50-60/kg are now silent," Yadav said.