SEC's goal is to ensure that no eligible person is deprived of voting: B P Singh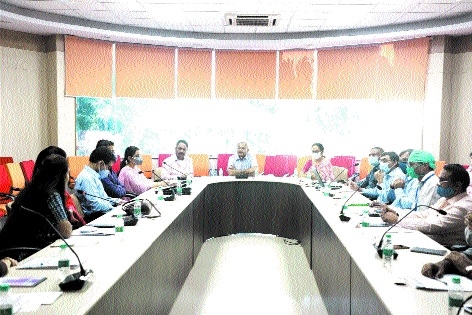 State Election Commissioner Basant Pratap Singh interacting with probationer IAS officers on Tuesday.
Staff Reporter ;
Main objective of State Election Commission is to ensure that eligible persons are not deprived of voting and ineligible persons are not able to vote in the election. State Election Commissioner Basant Pratap Singh said this at a briefing session organised in the commission for IAS probationers of the year 2019 batch. Singh said that you will have an important role in the civic body and panchayat elections to be held in the coming months. He told to take the information given here seriously.
He told to remove all doubts. Singh said that urban body and panchayat elections are important for State Election Commission. Commission was formed in the year 1994 and is an autonomous institution. Commission conducts elections for about 4 lakh posts which include the posts of Mayor, Chairperson, Corporator, District Panchayat Member, Janpad Member, Sarpanch and Panch. During the briefing, Commission's Under Secretary Pradeep Shukla gave information about election process of urban bodies.
Additional Secretary Rajesh Yadav and Deepak Nema gave information about EVMs and various IT applications related to the election respectively. Secretary of State Election Commission Durgvijay Singh, OSD Sunita Tripathi, Deputy Secretary Arun Parmar and other officials were present in the briefing session.