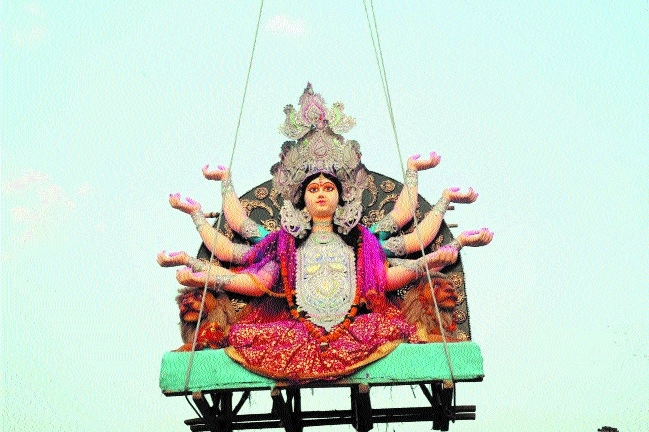 Staff Reporter :
The arrangements for processions related to immersion of idols of Goddess Durga were made on Wednesday as well. The procession related to immersion of tableaux of Goddess Durga started on Wednesday at 6 pm from Bharat Talkies and conclude at the immersion site on October 13.
The tableaux, from various parts of the city, gathered at Bharat Talkies Square and go from Central Library, Itwara, Mangalwara, Jumerati, Janakpuri and Sindhi Market to Peergate. They crossed via from Moti Masjid, Retghat, Ginnori, Kamla Park and Kilol Park for immersion at Rani Kamlapati Ghat. Arrangements were also made at Prempura Ghat via Polytechnic Square, TTTI, City Depot Square and 25th Battalion. Another procession, started from Talaiya Police Station Trisection, Lily Talkies Square, PHQ, Control Room, Roshanpura, Rangmahal, Jawahar Chauk to reach Prempura Ghat.
For immersion of tableaux at Hathaikheda, entry was made from Anand Nagar and for immersion at Khatlapura. Bhopal Municipal Corporation along with district administrations had made all the arrangements and cranes were deployed at immersion ghats to facilitate immersion rituals. Additional to that the teams of police, teams of the Bhopal Municipal Corporation, teams of Home Guards and divers were deployed for day and night supervision to avert any unfortunate incident.