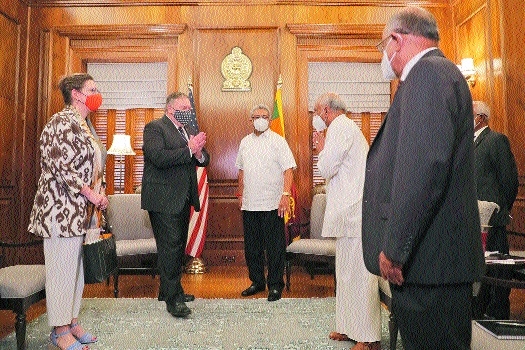 US Secretary of State Mike Pompeo (second left) greets Sri Lankan Foreign Minister Dinesh Gunawardena (second right) before his meeting with Sri Lankan President Gotabaya Rajapksa in Colombo, Sri Lanka on Wednesday. (PTI)
COLOMBO :
AMERICA'S vision on Sri Lanka is "very different" from that of "predator" China, US Secretary of State Mike Pompeo said here on Tuesday as he met the leadership here and reaffirmed US' commitment to the island nation's sovereignty and security.
Addressing a joint press conference with his Sri Lankan counterpart Dinesh Gunawardena after bilateral talks, the top US diplomat said that the US and Sri Lanka shared a democratic vision. "Indeed, a strong sovereign Sri Lanka is a positive partner on the world stage. It can be a beacon for a free Indo-Pacific.
"The Chinese Communist Party is a predator. The US comes in a different way, we come as a friend," Pompeo said in response to a question. Pompeo, who became the Trump administration's highest ranking official to visit Sri Lanka, said that the US and Sri Lanka shared a vision for democracy to build a relationship and the "freedom to hold democratic elections". US to open embassy in Maldives; Pompeo discusses Indo-Pacific with Prez Solih during 1st visit: The US will open an embassy in Maldives, Secretary of State Mike Pompeo announced on Wednesday as he held extensive talks with leadership of the strategically located island nation in the Indian Ocean, weeks after the two countries clinched a key defence cooperation pact.