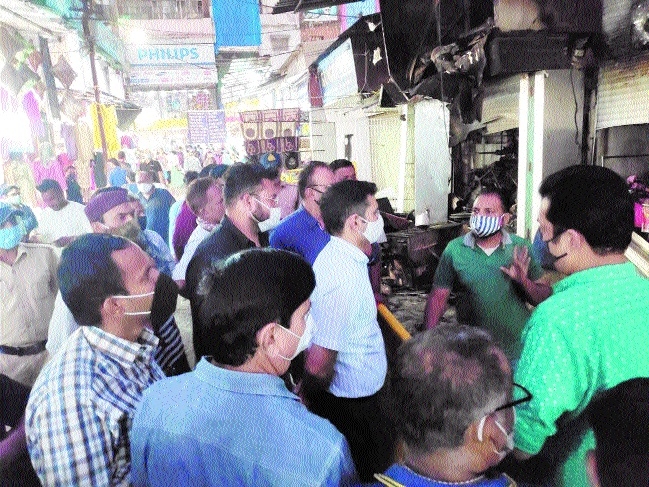 Municipal Commissioner K V S Chaudhary and District Collector Avinash Lavania interacting with the shop-keepers.
Staff Reporter :
On Thursday, District Collector Avinash Lavaniya and Bhopal Municipal Corporation (BMC) Commissioner K V S Chaudhary inspected New Market. The shop-keepers whose shops was gutted in a fire accident interacted with the officials.
The shop-keepers also informed the officials about various problems of encroachment in the area which is also adding to their woes. A major fire broke out in New Market area on the wee hours on October 27. More than 12 shops were gutted as they were adjacent to each other. Though no major causality has been reported but lakhs of rupees have been lost in this fire accident .The fire was reported during wee hours when some locals spotted smoke coming out a shop in New market TT Nagar area around 2.30 am. Subsequently, 25 fire tenders reached the spot and the fire was doused after four hours. Encroachments by hawkers are giving tough time to anti encroachment squad in many areas.
Earlier, following the complaint of traders and shopkeepers, the district administration and Bhopal Municipal Corporation (BMC) had driven out the vendors and hawkers from market and its periphery for the convenience of visitors during the festive season. The encroachment is now causing traffic congestion in these areas.