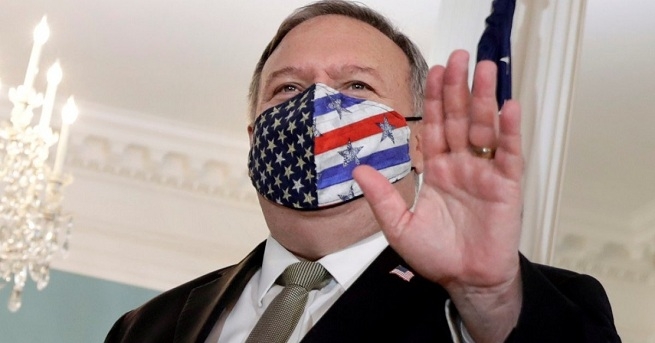 UNITED States Secretary of States Mr. Mike Pompeo attracted global attention when he said in Sri Lanka that America's vision on the island nation was "very different" from that of "predator China". Mr. Pompeo used this strong expression to demonstrate the American sentiment on the issue of China's sly expansionism. On a whirl-wind visit to the Asian countries along with Secretary of Defence Mr. Mark Esper, Mr. Pompeo has openly talked of China as a country with suspect intentions. The statement that China was a country with "predator" tendencies came at a joint press conference which Mr. Pompeo held with his Sri Lankan counterpart Mr. Dinesh Gunavardena after bilateral talks.
Obviously, the details of the statement were pre-determined and then expressed. The truth in the statement cannot be denied. China has been indulging in diplomatic games in Asia and Africa operating an unholy agenda. It was because of this nature of the Chinese games that Prime Minister Mr. Narendra Modi, too, had said from his high perch in eastern Ladakh last summer that India would never tolerate expansionism.
As the Prime Minister's statement came from actual experience, the world realised not just the truth in it but also its gravity in world affairs. It is more than clear to the world by now that China harbours a tremendous disdain for its neighbours and is on a campaign of spreading its wings in the Asian and the African regions. It is also the reason why Beijing felt offended when the US and India engaged themselves in a 2+2 dialogue in New Delhi. A statement from the Chinese Ministry of Foreign Affairs in Beijing said without any mincing of words that the dispute between China and India was a bilateral matter and other countries had nothing to do with it. Mr. Pompeo's aggressive posturing on the tour created a great discomfiture in China, which gets evident from Beijing's statement about India-China dispute being a purely bilateral matter. Of course, neither India nor the United States is going to attach much importance to Beijing's statement. For, India has been facing China's hostile intentions for decades.
The United States, too, has been engaged in a trade war with china for the past some time, and also in a naval stand-off in South China Sea. Thus, both these countries are pursuing their own joint agenda and signed critical defence pacts during the recent 2+2 dialogue in New Delhi. The US has offered its lethal F-18 war planes in addition to other parts of the deal loaded in India's favour to a huge extent. Because Beijing finds this development offending, it has tried to assert that the friction with New Delhi was a bilateral matter. That may be technically so, but India is one country that is smart enough to understand the international implications of the current hostility with China.
It is common knowledge internationally that China has been following a policy of encirclement of India, as is generally believed in the global diplomatic community. The world knows how China operates while dealing with weaker nations. It first makes tall promises and then entangles those countries in the web of benefits that those countries stop having after some time once Beijing makes sly alterations in its intent and action. It is this tendency of China that Mr. Mike Pompeo has described as "predator". Unfortunately, the Chinese games went on for a few years, making many countries very uncomfortable in Beijing's company. In the past some time, however, the dirty designs of China are getting increasingly exposed and many countries are moving away from the dark shadow of diabolical Chinese mix of military and economic manipulations. India has played a major role in exposing China in this regard. It stood as tall as China in military build up in Ladakh, and it stood equal to Chinese diplomatic games and economic manipulations. For every Chinese overture, India proved an equal and opposite force, showing China's vulnerability.