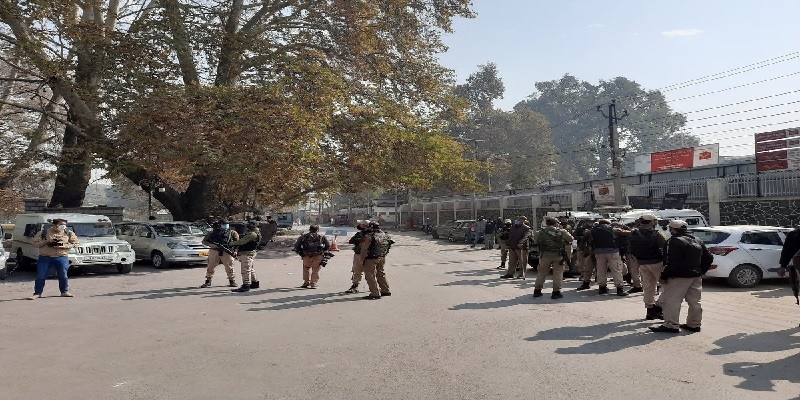 THE action of the Jammu and Kashmir Police to seal the Srinagar office of the People's Democratic Party (PDP) headed by Ms. Mehbooba Mufti and arresting a few workers for protesting against the new land law and NIA raids on NGOs in terror-funding cases, is fully justified. Though Ms. Mufti tried to add an ideological touch to the protests by saying that the PDP would not allow any toying with Kashmir's demographics, it is obvious that the protests are being made out of frustration of loss of political turf.
In fact, this has been the case of all so-called mainstream political parties of Jammu and Kashmir. The Central Government has followed a fully constitutional and parliamentary process of abrogating the Special Status to Kashmir, leaving the Kashmiri politicians no chance to oppose the change. The protests now are nothing but an afterthought that the Kashmiri leaders arrived at only after they were released from detention of months.
Factually, the Kashmiri protesters have no legal and moral ground to stand on. The developments of the past days also showed fissures in their ranks as a few workers of the PDP even unfurled the National tricolour at the party office even after Ms. Mufti stressed that she would honour the national flag only if the old Kashmir State flag, too, was hoisted. In just a few hours, she found herself totally isolated by her own cadres, a fact that must have amused the common people across the country.
The major thrust of the current protests is actually the NIA raids on NGOs to probe terror funding allegations. In all likelihood, most of these NGOs would be exposed in some time for having acted as conduit for terror funding. The investigators have enough proofs to suspect that some nefarious activities were being conducted by those NGOs for long, particularly to offer financial support to the terrorist and separatist activities.
Most unfortunately, the separatist elements in Kashmir were supported by most so-called mainstream political parties. However, they had got the protection of the Special Status that prevented the Central Government from taking certain action in Kashmir. Now that the restriction is no longer operative, the Central Government can move in freely to counter the anti-national activities in the State (now split into two Union Territories). And that is the real cause of trouble for the so-called mainstream Kashmiri parties. That is showing up.