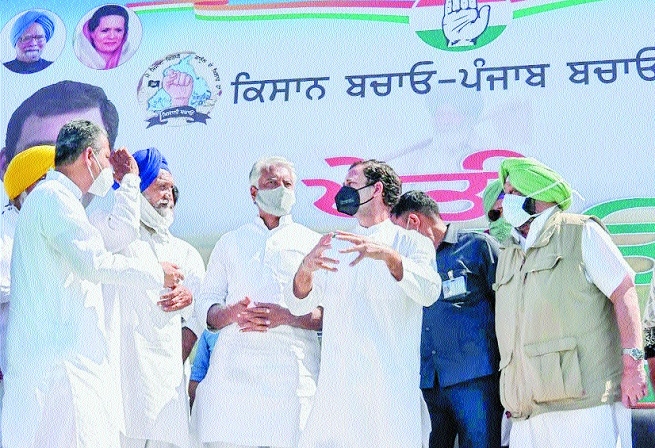 Congress leaders Rahul Gandhi, Punjab CM Capt. Amarinder Singh, other Congress leaders during 'Kheti Bachao Yatra' against the recently passed 'farm laws' in Sangrur on Monday. (PTI)
SANGRUR :
CONTINUING the pressure on the NDA Government over the three new agriculture-related laws, Congress leader Rahul Gandhi on Monday said that the Centre's "assault" on the farmers would lead to ruination of the country. He however warned the Centre that the agitating farmers would not be scared into submission on these "black laws". Rahul Gandhi was addressing a rally here on the second day of his three-day 'Kheti Bachao Yatra', before he led another 'tractor rally' in support of the farmers protesting against these laws. "The farmers will not be scared into submission.
They will face COVID pandemic but fight for their rights on the streets of Punjab and the rest of the country," the Congress leader warned. Joined by Chief Minister Amarinder Singh, who lashed out at the Union Government for what he called "destroying the time-tested farmer-arhtiya relationship" to hand over the agriculture sector to big corporates like Adanis, Rahul made it clear that the Congress would not stop fighting for the cause of farmers. He said once these industrialists take control of food, every household would have to pay three-fold prices for the produce, leading to devastation and suffering for the entire nation.
Addressing the rally, Amarinder told the people in the heartland of the Malwa region, which records the highest yield in wheat and paddy, that the Modi Government had backtracked on every single promise, be it the constitutional promise of GST or employment or doubling of farmers' income. Farmers would allegedly be left by these new laws at the mercy of big industrialists, whom they would never be able to fight or go to for help.