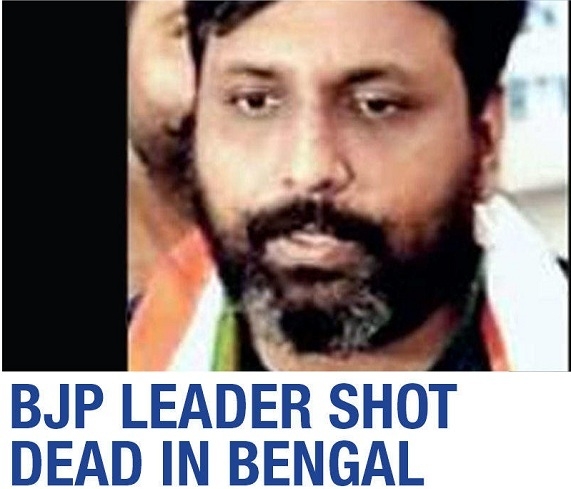 KOLKATA :
A LOCAL BJP leader in West Bengal was shot dead on Sunday by two bike-borne assailants near Titagarh in North 24 Parganas district, police said. The duo opened fire at Manish Shukla, a local councillor, on B T Road in the evening, following which he was taken to a private hospital, where he was declared brought dead, they said.
The BJP leadership blamed the Trinamool Congress for the incident, but the ruling party has rubbished the accusation. "It is shameful that the TMC has now started politics of annihilation of political opponents. We don't have any faith in local police as this happened in front of the police station. We want a CBI inquiry," BJP national General Secretary Kailash Vijayvargiya said. BJP MP Arjun Singh also held the TMC responsible for Shukla's "killing" and claimed that shots were fired at him from a carbine. Shukla, who switched over to BJP last year, was considered to be close to Singh.
Senior TMC leader Nirmal Ghosh said the incident was a result of infighting within the BJP and allegations against his party were baseless. Meanwhile, BJP activists on Monday put up road blockades in North 24 Parganas district as part of a 12-hour Barrackpore bandh called by it to protest the killing of a party leader. The BJP workers burnt tyres and blocked major thoroughfares such as Barrackpore-Barasat Road and Kalyani Expressway, bringing traffic to a complete halt in the area. The State BJP leadership on Monday decided to take the body of slain leader to Raj Bhawan in protest against what it called "the murder of democracy". The police, however, said the BJP was denied permission to take the body to the Governor's House.
Political violence in WB must stop: Governor
KOLKATA,
Oct 5 (PTI)
WEST Bengal Governor Jagdeep Dhankhar expressed concern over the "alarming situation" in the State after a BJP leader was shot dead in North 24 Parganas, and said that Chief Minister Mamata Banerjee should take note of critical aspects that "run down democratic governance and lawlessness". He said, political violence and targeted killings should be stopped. Dhankhar slammed State administration after Home Secretary and the DGP failed to turn up, disregarding his summons over the killing of BJP leader Manish Shukla. However, Chief Secretary Alapan Bandyopadhyay met Dhankhar.
"Conveyed my concern of the present alarming scenario @MamataOfficial to the new Chief Secretary. Am sure Chief Minister would be indicated all these critical aspects that run down democratic governance and lawlessness. The Governor also said that he has sent a message to the Chief Minister, expressing his desire to speak to her but there has been "no response". "Manish Shukla's body not handed over now for over 20 hours. Insensitive approach West Bengal Police and Mamata Banerjee. Such actions indicate cover up," Dhankar tweeted.