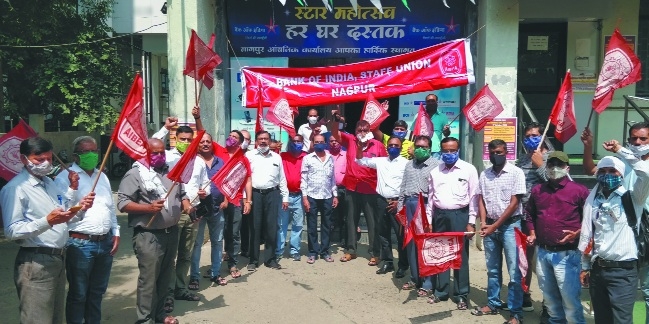 Business Bureau :
In Bank of India, all over the country, more than 21,000 comrades of the union AIBEA went on strike in persuasion of their demands pending with top management since more than a year. The strike call was given by the Federation of Bank of India Staff Unions last year in the month of October 2019 and in the conciliation meeting held before the labour commissioners the management of Bank of India agreed that they will settle the issues amicably and bilaterally, Thus they bought time and befooled the union and the Government machineries.
There were series of discussions but they not only delayed the matter, but went back on their promises. When all the forums were exhausted, the Federation of Bank of India Staff Union left with no alternative than to resort to strike action. With steep opposition from the management and the officer association the brave and committed comrades of AIBEA observed full day strike and made it successful cent percent.
The just and reasonable demands of bank workmen are adequate recruitment of staff, due share in perks and perquisites, against unethical practices, unnecessary OTS and compromises, no attempt to make recovery, wasteful expenditure, unilateralism and transparency in helping staff without any distinction. In Vidarbha, the strike was hundred per cent and hampered business of the bank. The strike is made a successful by General Secretary Suresh Bobhate, President Satyasheel Rewatkar, and an army of AIBA members namely Ramesh Chaudhary, Narayan Umredkar, Sunil Belkhode, Ashok Shende, Harsh Agrawal, Amit Bharti, Pankaj Abhyankar, Amit Ganvir, Yogesh Samudre, Yugal Selokar, Sarang Raut and Sameer Shende.