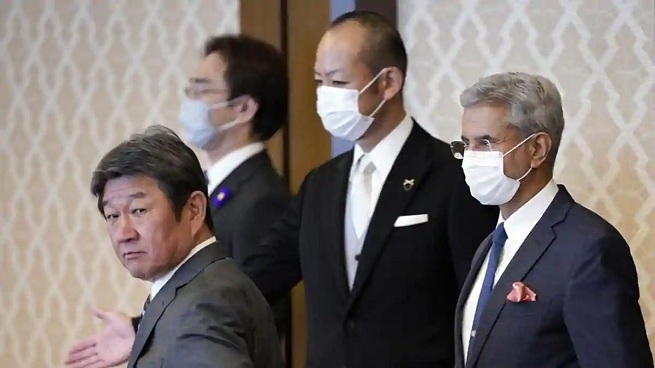 Foreign Minister S Jaishankar (R) and his Japanese counterpart Toshimitsu Motegi (L) upon their arrival for their luncheon meeting at the Iikura Guest House in Tokyo, Japan on Wednesday. (AP/PTI)
NEW DELHI :
INDIA and Japan have finalised an ambitious agreement that provides for cooperation in 5G technology, Artificial Intelligence and an array of other critical areas as the two strategic partners vowed to further broadbase their ties including in the Indo-Pacific region. After a meeting between External Affairs Minister S Jaishankar and his Japanese counterpart Toshimitsu Motegi in Tokyo on Wednesday, it was announced that Japan agreed to be the lead partner in the connectivity pillar of the Indo-Pacific Oceans' Initiative (IPOI).
The IPOI is an India-backed framework aimed at making meaningful efforts to create a safe and secure maritime domain in the Indo-Pacific, a region where China has been expanding its military assertiveness triggering global concerns. Jaishankar, in a tweet, said that further expansion of India-Japan collaboration in third countries with focus on development projects also figured in the 13th India-Japan foreign ministers' strategic dialogue.
"Recognising the increasing role being played by digital technologies, the two ministers highlighted the need for robust and resilient digital and cyber systems and in this context, welcomed the finalisation of the text of the cybersecurity agreement," the Ministry of External Affairs (MEA) said.
The cooperation between India and Japan on 5G technology comes in the backdrop of growing reluctance by a significant number of countries globally to allow Chinese telecommunications giant Huawei to roll out 5G services in their territories. In their talks, Jaishankar and Motegi deliberated on a broad range of areas including maritime security, trade and investment, manufacturing, connectivity and infrastructure and reform of the United Nations, the MEA said.