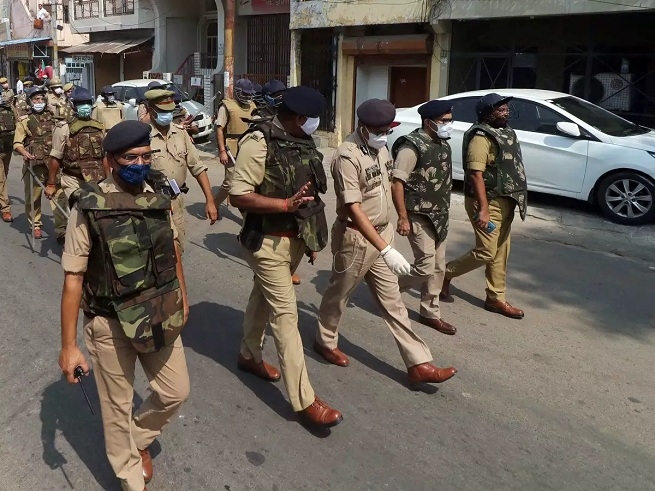 HATHRAS (UP) :
THE Uttar Pradesh Government sent two Additional Director General (ADG) and Deputy Inspector General (DIG) of Police level special officers to Hathras district and Aligarh Range for seven days. The UP Government took the decision to send these officers on Wednesday in view of the law and order situation arising out of the Hathras incident. On Wednesday, an FIR had been registered against four people with links to Popular Front of India (PFI) in Mathura who were "going to Hathras to disrupt peace as part of larger conspiracy".
Case lodged against AAP MLA Kuldeep A CASE has been registered against Delhi AAP MLA Kuldeep Kumar, who had tested positive for COVID-19 on September 29 and had gone to meet Hathras victim's family on October 4, under Epidemic Act, said the Hathras SP on Wednesday. The AAP MLA from Delhi's Kondli constituency had earlier taken to Twitter to announce that "due to my mild fever for the last two days, today I got COVID-19 test done, the report of which has come out to be positive, due to which I will be at home in isolation. Whoever has met me in the last 2-3 days should also get his test done".
Congress leader booked for sedition A CASE for sedition has been lodged against Congress leader Shyoraj Jivan, a Dalit, who was caught on camera trying to incite local people in Bulgarhi village where a 19-year-old was fatally assaulted by four men last month. The Congress leader was seen in the purported videos, admitting that Congress used the Hathras incident for furthering its politics as it had been devoid of issues for a long time. He is using provocative language to provoke Hathras rape and murder victim's family and the entire Valmiki community with an alleged intent to inflame caste violence in the district.
Jivan is a Former Minister of State in the Union Cabinet and national secretary of All India Congress Committee. NGO moves SC AN NGO has moved the Supreme Court seeking to transfer the investigation in the Hathras incident to the CBI. The NGO, which has sought to intervene and assist the apex court, said it has the experience of working with victims who were "threatened and intimidated by the mighty State" in the past.