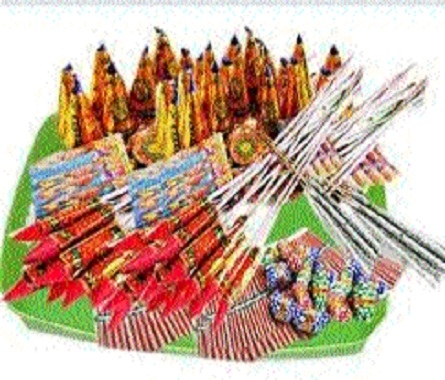 By Amlan Sinha :
Bhilai,
On instruction and order of National Green Tribunal (NGT), Chhattisgarh State Government has allowed population of the state to burn only satisfactory and moderate firecrackers with low sound and low level of chemicals. While this decision could bring some cheer to children and youngsters medical experts and environmentalists are totally against it.
As all forms of firecrackers even moderate level too generate aerosols and in current phase of COVID-19 pandemic, it will become a medium for SARS-COVID to spread wider and possibly infect more number of people. Medical and environment fraternities were of the opinion that not just firecrackers but burning of dry leaves and wastes must also be avoided in this winter season as it will increase the air pollution level which will help SARS-COVID to spread at a faster rate. In this situation, people with multiple health disorders especially of respiratory infection as well as weak immune system are at higher risk to develop the infection of coronavirus.
Particulate matters and poisonous gases like nitrogen dioxide, polycyclic aromatic hydrocarbons and various organic compounds lead to acute respiratory distress among senior citizens, children and other people who are patients of asthma, bronchitis and other respiratory allergies. Dr A K Saniyal, Chest Specialist and State TB Officer said that "In winters, aerosols and suspended particulate matter in air can act as carriers of COVID-19. Since the virus is airborne, heavy concentration of these particles in air will speed up their transmission. For this reason, all aerosol generating activities are a risk factor during this pandemic period. Dr Anita Sawant, Executive Officer of Central Pollution Control Board Durg Chapter informed that generally particulate matter 2.5 level record at Bhilai, Durg and other districts of Durg division in the range of 115 to 130, which increases to 140 in winter season owing to burning of leaves and wastes.
Dr Sawant further added that last year in Diwali, it has touched 155, which was very dangerous for patients of respiratory infection. This year in COVID-19 pandemic, this high level of particulate matter 2.5 can lead to more cases of coronavirus. Dr Ritesh Verma, another chest specialist pointed out that already vehicles, factories, burning of dry leaves and wastes are causing high air pollution. Then addition of fire crackers will definitely increase the cases of coronavirus all over the region. So it is better to celebrate Diwali in a safe manner.