CM visits Late Vijay Sahariya's residence, announces Govt job to deceased's wife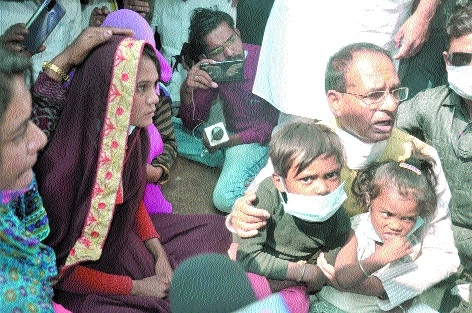 Chief Minister Shivraj Singh Chouhan consoling the family of late Vijay Sahariya in Ukavadkhurd village of Guna district.
Staff Reporter :
Chief Minister Shivraj Singh Chouhan reached the residence of family affected in the incident occurred at Ukavadkhurd village in Guna district. Chief Minister issued instructions to provide Government job to Late Vijay Sahariya's wife, Rs 5,000 monthly allowance for the next 6 months, Rs 4 lakh in Sambal Yojana and a pucca house. He expressed his condolences to the bereaved family, consoled them and assured all possible assistance to them.
He assured Ramsukhi Bai, wife of Late Vijay, that the Government stands with her. Injustice done to her will not be tolerated. Strict action will be taken against the culprits. He cuddled Vijay's children including 5-year-old son Piyush and 4-year-old daughter Nancy and said that the Government would take care of their education. He said that Government has enacted a law against unlicensed moneylenders who provide loan at high rates to the poor, take possession of their property unlawfully and torture them.
There is also a provision for imprisonment up to 3 years with fine as punishment to money lenders. People belonging to the Scheduled Tribes who are in debt under such moneylenders, should complain directly. Strict action will be taken against the concerned.