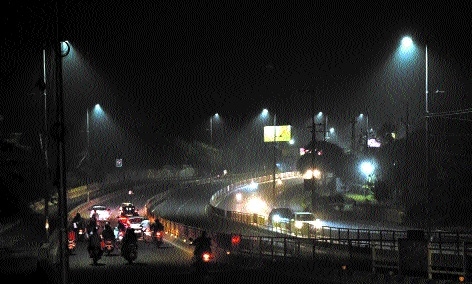 CHILL ADDS TO BEAUTY OF BHOPAL: Haze persists at night in State capital.
Staff Reporter ;
Chilly weather prevails across Madhya Pradesh. So far, there is no major drop in minimum temperature. Moderate cold is forcing people to look for warm clothes during evening and night. Cold conditions are likely to intensify when once chilly winds starts to sweep the State. Bhopal's minimum temperature was 12.8 degrees Celsius, 3 degrees below normal.
Its maximum temperature was 29.4 degrees Celsius, 1 degree below normal. Currently, day and night temperature remained below normal in most places of State. For instance, Gwalior recorded minimum temperature at 11.5 degrees Celsius, 2 degrees below normal. As of now, days are partially sunny and it's only during morning and night hours when moderate cold starts to pinch the skin. Weather Department said that conditions remained dry across the State during last twenty-four hours. Minimum temperature of Rewa and Shahdol divisions remained substantially below normal.
Therefore, people living in these divisions shivered due to cold. They were below normal level in Jabalpur, Sagar, Hoshangabad, Indore and Ujjain divisions. The lowest minimum temperature of 8 degrees Celsius was recorded in Umaria. In its forecast, Weather Department stated that weather will remain dry in all places of State. There will be no major change in temperatures. Moderate cold will prevail in morning and night hours.