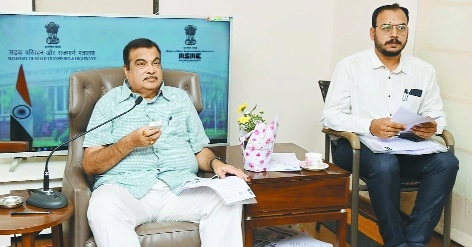 Business Bureau :
Modern technology should be utilised to explore the new fields. Design And Research Caravan, DARC3D, is a venture Anshuman Mardikar, is a step towards exploring new areas in the field of 3D visualisation of architectural structures, said Union Minister for Surface Transport, Shipping and MSME. Gadkari was speaking during inauguration of DARC3D, here. Ex-MLC Anil Sole was the chief guest.
Architect Milind Sambhare, Propietor of G D Sambhare and Company and its Senior Associate Architect Advait Sambhare, were the guests of honour. Gadkari assured all kind of support to the venture and appealed to derive benefits from various Government schemes aimed at promoting new entrepreneurs. Anil Sole extended best wishes for the new company. Ar Milind Sambhare, with whom Anshuman worked for several years, appreciated the hard work and innovative ideas of Anshuman.
Ar Advait also spoke about qualities of Anshuman. Besides providing services in making architectural views training to those interested in the field will be provided by DARC3D. Gadkari also inaugurated website 'www.darc3d.com' of the company. Anshuman Mardikar gave information about the company. Ajay Mardikar conducted the proceedings and also proposed the vote of thanks. Sushama Mardikar, Smita Mardikar, Saumitra Mardikar were present. Several other prominent persons attended the programme on-line.