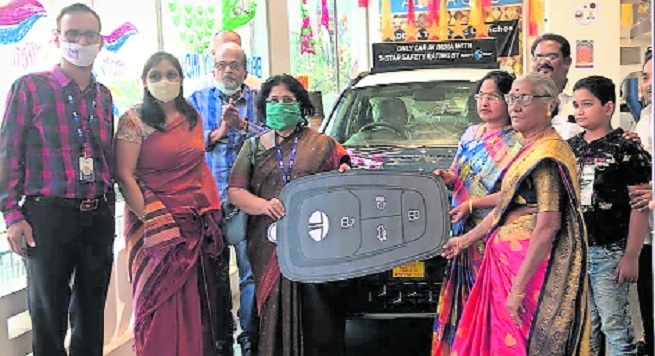 Madhav Pophali, Aditi Jain Punyani, Dr Prakash Jain, Asha Agasthi, Someshwar Balpande and family at the event.
Business Bureau :
ADITYA Tata Cars, authorised dealer of Tata passenger and electric cars has started delivery of electric cars. The amazing features of Tata EVs are most reasonable price as compared to the competitors. Company model price starts for Tata Motors Tigor EV at Rs 13,49,656, Tata Motors Nexon EV at Rs 14,99,519, MG ZS-EV at Rs 22,30,263 and Hyundai Kona EV at Rs 25,00,626.
The cost includes free battery home charging kit. There is a special scheme for the month of November - free annual maintenance contract for two years worth Rs 20,000. Rs 1 lakh subsidy by Maharashtra Government, Income Tax benefit of upto Rs 1.5 lakh till the duration of loan repayment. Aditya Tata Cars is getting huge response from customers and also from corporates for Tata EVs. For the delivery of the Tata electric car, a function was held where keys were handed over to Someshwar Balpande and family by the hands of Asha Agasthi, Regional Manager of SBI, Nagpur.
Aditya Tata Cars is operating from two showrooms at Dhantoli (M: 7755994402) and Sugat Nagar (M: 8446545666) and workshop at C-6 MIDC Nagpur. Aditya Tata Cars also provides sales and service at Gondia (M: 9881860045) and Katol (M: 9325453686).