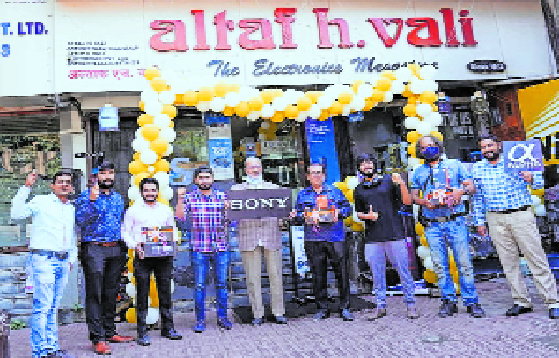 SONY has recently launched the most awaited mirrorless full frame camera, the ILCE-7SM3 which was delivered to professional wedding and event photographers Akshay Vasani and Mayur Nagrani from We4Films, senior photographer and OCPC member Chetan Joshi and Travel Vlogger Mohnish Daultani. The cameras were delivered by Anwar Bhai Vali and Adnan Bhai Vali, directors of Altaf H Vali Electronics Pvt Ltd in presence of Pulak Chandak from Sony India.
The 7S3 features a 12.1MP back-illuminated full-frame image sensor with ultra-high 's' series sensitivity and 15+ stop wide dynamic range, 4K 120p video with 10-bit 4:2:2 color depth, a new heat dissipating mechanism, dual slot relay recording for over one hour of 4K 60p movie shooting and a new autofocus system.
Alpha 7SIII stands out with its spectacular new speed combined with ultra-low noise which allows 4K movie shoots which were previously impossible. It has high dynamic range, an expanded ISO range for movies from 80 to a remarkable 409,600, breath-taking focusing capabilities and extra-strong image stabilisation. The camera is priced at Rs 3,34,990 (body only).
M/s Altaf H Vali is central India largest store for photography goods, where consumers, both professional and amateurs get to touch, and experience products with combination of lenses and other photography accessories providing expert guidance, technical know-how under one roof.