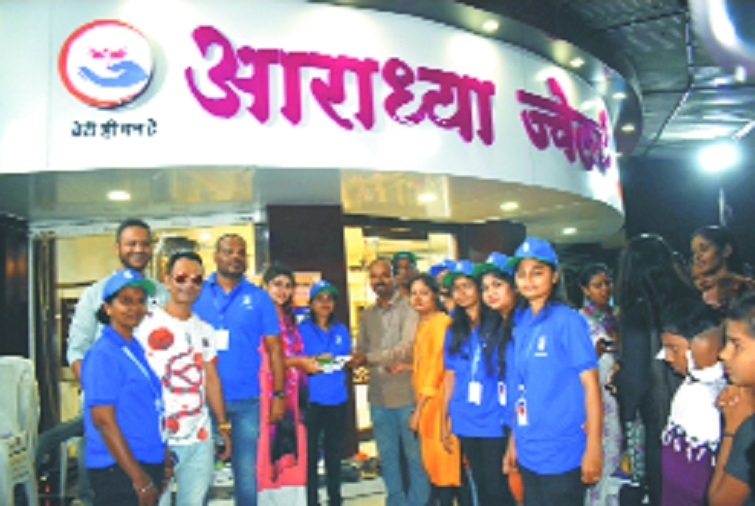 Growing at a phenomenal pace in the jewellery business Aradhya Jewellers has recently opened its fourth new showroom at Sakardara Square, Umrer Road. The new jewellery showroom was opened due to heavy demand by customers.
Aradhya Jewellers for the benefit of customers at the new jewellery showroom has launched a special 0 per cent making charges scheme on 24 karat gold jewellery. The scheme is getting an overwhelming response from the customers.
Ashish Manpiya, Director of Aradhya Jewellers said, "Aradhya Jewellers store was first established a few years ago at Sharda Chowk, Nandanvan. Due to high standards in production, attractive craftsmanship and designing the business won the faith of the customers. All these factors helped the business grow to new heights. We are providing fair dealing, pure gold and silver jewellery ornaments at reasonable prices and with guarantee to our customers."
Manpiya said that the Aradhya Jewellers fourth showroom is situated at Sakardara Chowk, below Asawari Deshmukh Hospital. Aradhya Jewellers showrooms are situated at Shrada Chowk, KDK College Road, and Nandanwan.
Under the scheme customers can avail zero per cent making charges on 24 carat gold jewllery, ring, bangles etc. For more details, interested may contact Aradhya Jewellers, Sakardara Square, below Asawari Deshmukh Hospital (Toll Free Number: 1800-266-1118).